featured
West Virginia Spring Football 2022: Three Things to Watch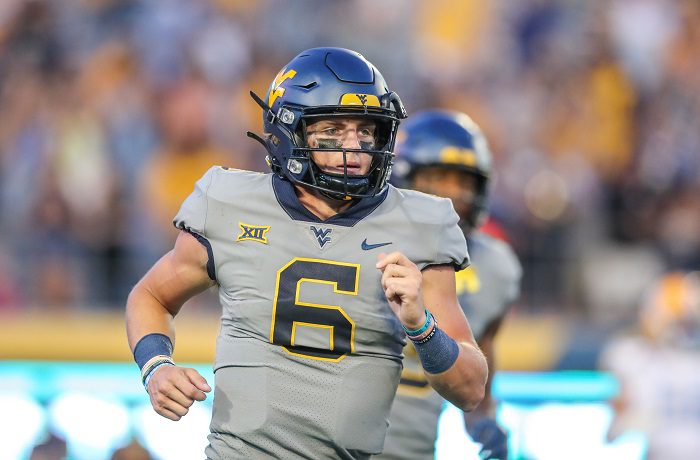 The Mountaineers may very well have been the most disappointed team this bowl season after their no-show against Minnesota.
Neal Brown is on the thinnest of ice going into 2022 and it's quite surprising that he still has his job to be completely honest.
However, with the ice cracking in Morgantown, Brown went out and made a splash by hiring a new offensive coordinator in Graham Harrell. Can Harrell fix all of the problems that West Virginia showed last season?
Far from it, and actually, there is a world where his style of offense compounds the issues that the 'Neers had in 2021. But let's not get into that just yet.
Here are three things that you should be watching for as West Virginia kicks off spring practice on March 22nd.
Will the Graham Harrell Air Raid System Help or Hinder the Mountaineers?
In 2021, USC rushed for 145. 6 yards per game, good for 80th in the country. In contrast, they passed for 298.3 yards per game which was good for 17th nationally. West Virginia was 103rd in rushing (123.4 ypg) and 56th in passing (247.9 ypg) last season and their inability to run the ball was one of the major problems for the Mountaineers against the top teams in the Big 12. Now, you may be thinking, "If USC was better than WVU in rushing last year, what's the problem?" Well, the problem is that West Virginia had 452 rushing attempts last year, the fifth-most attempts in the league. USC's offense only had 402 attempts last season under Graham Harrell. If that trend continues, the worst rushing team in the Big 12 last season will now be running the ball even less, making them, even more, one-dimensional. Can they find a way to make it work? Who knows, but the Harrell hire, although exciting, is very risky for Brown in a do-or-die year.
Who is QB1 in 2022: Garret Greene or Nicco Marchiol?
Garret Greene is the most experienced quarterback on the roster after Jarret Doege transferred to Western Kentucky, but many people in and around Morgantown believe that Nicco Marchiol is the next great passer for West Virginia. This quarterback race will be one to follow closely, but if I had to give the edge to someone it would be Greene. Experience is everything in college football, and Greene obviously has the advantage there. Plus, his ability to make plays with his legs can help offset the loss of Leddie Brown until Graham Harrell can anoint a new RB1 (More on that in a second). Greene's biggest issue last year was his inability to make the correct reads in the RPO scheme. He would often pull the ball and keep it when he needed to give or make a quick throw. In the long run, Marchiol has the higher ceiling in this offense, given his immense arm talent, but if Greene can improve between the ears this spring he will be the safest bet to start come August.
Who replaces Leddie Brown?
Before we get into this question, yes we are focusing solely on the offense this spring. West Virginia was good defensively last season, ranking fourth in the Big 12 in total defense and 37th nationally. That's good enough to win games. Meanwhile, they were 87th in total offense, and that will cause some issues when facing teams like Baylor or Oklahoma State, who can shut down some of the best offenses in the country. Running the football in the Big 12 is paramount to success, and Leddie Brown was the only threat that West Virginia had on the ground last season. Now, with Brown headed to the NFL, the Mountaineers will have to find someone else to tote the rock. Returning back Tony Mathis is someone to keep an eye on, but Clemson-transfer Lyn-J Dixon is my pick to replace Leddie. Dixon spent most of his time at Clemson backing up All-American running back Travis Etienne, but when he got time to shine as a freshman, he did just that. He ran for 547 yards and five touchdowns in 2018, averaging 8.82 yards per carry. if he can replicate that kind of production at West Virginia, it would go a long, long way towards keeping Neal Brown employed in Morgantown.