featured
Brent Venables Confident that Dillon Gabriel is Right Guy to Lead Sooners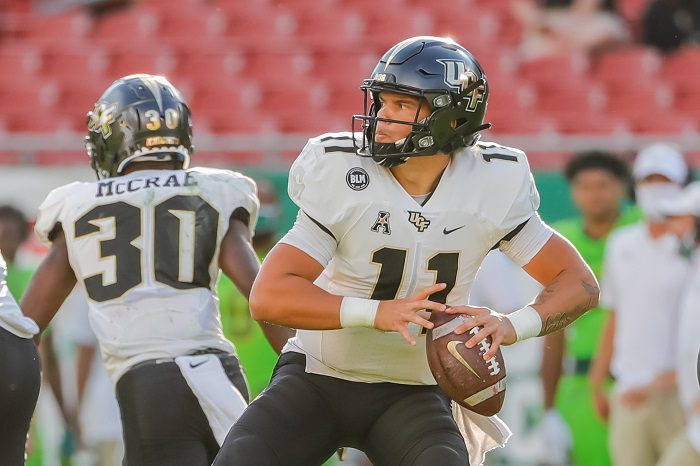 If I would've told you in November that Brent Venables is the head coach at Oklahoma in 2022 and Dillon Gabriel is the quarterback, you would've fallen out of your seat in disbelief.
That's just how things worked out though, and many around the program feel that it is in better hands now than it was four months ago. Sure, there were roster issues to deal with and pieces like Caleb Williams aren't easily replaced, but Coach Venables is confident that Dillon Gabriel is the man for the job at Oklahoma.
"When we were in the recruiting process, it really didn't take much recruiting," Venables said of his quarterback this week. "It was already kind of a — when we asked him, he was ready to come with just a few questions to be answered. But he's a leader. He's a worked. He's very ambitious. He's self-driven. Very humble. Incredibly confident. Great self-awareness. Understands where he needs to get better. And that's just through conversation. But guys follow him. The best of the best make others around them better, and he's intentionally done that through relationships and work. But he's a good athlete, got good quickness.
"Very, very competitive — ultra-competitive — and just got a great sense of humility to him that is fun to deal with. Our job's hard enough as it is. If I was a jerk up here, y'all would still have to cover Oklahoma. But it wouldn't be as fun for y'all, and it certainly wouldn't be fun for me if y'all was dealing with a jerk either. And same thing if you're coaching — it's no different. You can become disinterested in coaching somebody that doesn't want to be coached. That happens over time, too. That makes coaching no fun, when there's not 'buy-in,' when there's not guys that want to be held accountable, things of that nature. But man, he's a pro in every way.
Gabriel was one of the top options in the transfer portal this offseason and when Oklahoma made Jeff Lebby their offensive coordinator, Gabriel and the Sooners were all but a done deal.
Gabriel has thrown for 8,037 yards, 70 touchdowns, and just 14 interceptions in 26 games during his time at UCF. He will be dangerous in Lebby's offense that has players like Marvin Mims, Eric Gray, and Theo Wease to distribute the ball to.
Being the quarterback at a place like Oklahoma means more than just distributing the ball though, it means being a leader and someone who won't shrivel up in the spotlight; both qualities that Gabriel possesses.
"Just he knows that he's got to be the example, as one of the leaders in this program, as the potential face of a program like Oklahoma," Venables said. "Being the quarterback at Oklahoma's a big deal, man. This is a big deal. And he knows it, and he values it. And he respects it. And so, he just works hard every day … not wanting to let anybody down, and he's betting on himself. And so, he's fearless. He's got a 'go for broke' mindset, 'go for broke' attitude and I'm really excited to see him go to work."