featured
How Every Big 12 Team, and Houston, Can Make the Final Four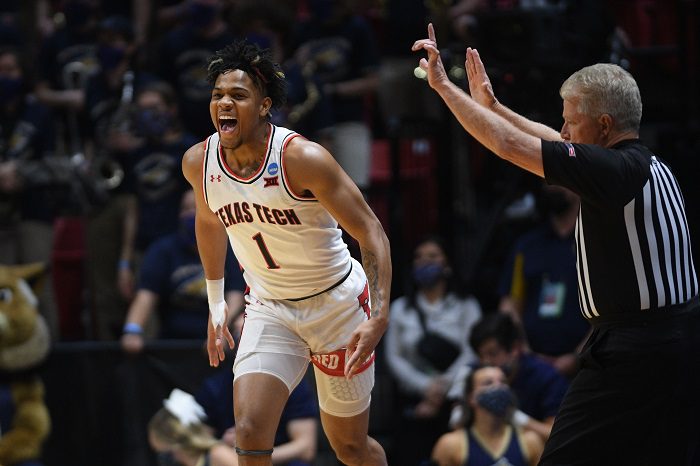 After a great first weekend where half the Big 12 teams in the field made the Sweet Sixteen and another took the #2 overall seed to overtime in the second round. It's time to make it to the Final Four.
If you count Houston, 25% of the Sweet 16 teams are from the Big 12 Conference
Here's how the three current Big 12 teams and future Big 12 member Houston can make it to New Orleans.
Kansas Jayhawks
#4 Providence -THEN- #10 Miami or #11 Iowa State
Kansas's path to the Final Four cleared up in a major way on the first weekend, with the 2 and 3 seeds in their region Auburn and Wisconsin respectively going down. But Jayhawk fans still remember 2011 when they had just a 12 and 11 seed in their way, and fell to VCU in the Elite Eight. Providence, according to Kenpom, is the luckiest team in the nation, they've had multiple difficult matchups canceled, and have won more close games than anyone. But the old adage of "better lucky than good" certainly applies come tournament time, and a team that seems to constantly pull out close wins isn't a team you love to run into this time of year. Despite being a trendy pick to get upset by South Dakota State in the first round, every time the Jackrabbits found a way to make a run and cut the lead to 4 or less, Providence seemingly always put together a 6-0 run to quell all the momentum. Then in the next round, Providence coasted by Richmond with no trouble whatsoever, shooting over 50% from both the field and from beyond the arc. Providence doesn't have a single NBA player on their roster, and they aren't in the top 30 of offense or defense, they're just a very well-coached unit. The key to Providence is smart plays, defense, and getting to the free-throw line, Kansas certainly has the players that can single-handedly bust defenses, especially with Remy Martin finding his form, but the biggest key is forcing this game to be counted by twos and threes and keep this game off the free-throw line, limit early in the half fouls.
The second matchup could be two very different styles, Miami is a very athletic team while Iowa State just likes to make it ugly, make their opponents hate playing them, and hope one of Brockington, Hunter, or Kalscheur, can muster up enough offense to win. If Kansas plays Miami the key will be limiting turnovers, the Hurricanes used their athleticism to get ten steals against Auburn while Kansas had the ball stolen just 12 times all weekend. If Kansas can limit Miami's make it or break it defensive style they should be able to limit Miami offensively and have enough scorers to reach the Final Four. Now if they face off with Iowa State they'd have to like their odds considering Iowa State's offensive woes, but it'd be a true rock fight. So long as Kansas can limit Iowa State's three dangerous guards, and keep from being forced to the half-court they should be able to win.
Iowa State Cyclones
#10 Miami -THEN- #1 Kansas or #4 Providence
This game against Miami maybe my favorite matchup of the Sweet Sixteen. Iowa State is going to make this game a rock fight and see if their guards can muster enough offense, while Miami is going to do their best to make this game a track meet. The guard play here is going to be key. It's the strongest position for both teams, for Miami, Kameron McGusty had 20 against Auburn even while shooting 0/5 from 3, and Isaiah Wong had 21 without hitting a single three. Miami isn't going to need to rely on threes and will be willing to slash their way through the game, Iowa State will need to clog that area, take charges and make it physical. If Iowa State's going to win this game it needs to be as ugly as their matchup with Wisconsin, and one of their guards will need to go for 20 points again.
No matter who they play in the Elite Eight should they get there Iowa State will need to once again make this game viciously ugly, it's their style and it's beautiful to watch no matter what anyone says. The problem here is both Kansas and Providence are used to playing ugly, or at least much more than Miami is. The benefit of a matchup with Providence is that Iowa State would probably have the best player on the floor, the negative with this matchup is they will really need some lenient refs. Providence loves to get to the line, Texas Tech saw that first hand, and Iowa State is as physical as they come, if the refs aren't lenient, they need two of their guards to play out of their minds. If they get Kansas, Kunc and Jones are in for a battle, McCormack is one of the best offensive rebounders in the country and these two are going to need to neutralize him. It's probably going to be more on Jones as he's just an inch shorter and 5 pounds lighter while Kunc is 2 inches shorter and 35 pounds lighter. If Iowa State wins this game Kunc and Jones are going to have two of the most physically exhausting hours of their lives.
Texas Tech Red Raiders
#2 Duke -THEN- #1 Gonzaga or #4 Arkansas
For the first time in decades Texas Tech finally got an upset to make their path easier in the second round (playing a 2 instead of a 1 in 2019 Final Four aside), that is now done as they get #2 Duke with Coach K and then either overall #1 Gonzaga or 4 seed Arkansas who knocked them out last season. I like this Sweet Sixteen matchup for Texas Tech. I may end up eating my words but Duke has been decent defensively because of 2 reasons, first Mark Williams is a 7 footer that can protect the paint. The problem for Duke is Texas Tech has bigs to stretch him, both their starting bigs Obanor and Williams are good three-point shooters and I'd expect to see a lot of that from those two. The second reason is Duke has talented athletes that can keep offensive players in front of them. The problem? Texas Tech doesn't have many slashers, they rely on passing, and getting inside with seemingly anyone they put on the court. Of the 10 oldest players on these two teams that see minutes, 9 of them play for Texas Tech. This team is just big and physical and has to be willing to push Duke around for 40 minutes and dare the refs to blow their whistles. If Texas Tech plays physically defensively, can stretch Mark Williams offensively, and then make passes inside they should win this game.
Texas Tech lost heavily to Gonzaga earlier this season despite holding Timme and Holmgren inside to just 12 points. Texas Tech lost this game for the same reason they lost most of their games this season, Gonzaga shot unusually well from three (42%). If that happens again Texas Tech will lose again, but they're much better offensively inside than they were in December (Bryson only had 5 points then), plus they'll have Shannon who is easily the best slasher on this team. If Bryson Williams and Santos Silva attack Holmgren's chest and make it physical, I really like Texas Tech's odds of being able to limit Timme enough to make this game about guard and wing play. Which would probably give them the advantage. The question against Arkansas would simply be can they slow the game down, prevent Arkansas from running and make this game be played in the paint. If they do, you'd have to like Texas Tech's odds unless JD Notae has the game of his life.
Houston Cougars
#1 Arizona -THEN- #2 Villanova or #11 Michigan
After watching TCU vs Arizona, where TCU just plain outworked Arizona and had the talent to take the game to overtime, until some poor calls caught up to them. As shocking as it may be Houston will work harder than TCU did, and has more talent than TCU does. Houston has as hard of a working team as anyone in the country, plus they have the talent and coaching to make it back to the Final Four. Unless Kerr Kriisa can get back to the form he showed this year, and I doubt he will as he's still hurt (shot 1-10 vs TCU), this is probably going to be like Wisconsin vs Iowa State where Iowa State just outworked a team with an injured star player.
If Houston gets back to the Elite Eight and plays Michigan the key is going to be making this game against guard play. Unlike most Big Ten teams the Wolverines don't play with 2 centers that are allergic to stretching the floor, they're much more switchable and stretchable than Illinois was. But beneath Eli Brooks, Michigan isn't deep at guard. If this becomes a game that comes down to guard play, Shead, Edwards, and Moore can kill Michigan by committee. Now if they get Villanova it's going to be about Collin Gillespie. He may be one of the most dangerous guards left in the tournament, he can come off screens, can shoot, and can beat defenders off the dribble. The key to stopping him will be twofold. Houston needs to make him uncomfortable, have their guards put bodies on him, and slow him down, there's nothing wrong with having their guards take a few early fouls on him. The second is to keep their bigs from getting stretched, the only times Gillespie seemed to struggle against Ohio State, was when the bigs stayed home and were able to meet him at the rim. The way Houston beats Villanova is by making Colling Gillespie miserable.