featured
Thad Turnipseed: Oklahoma 'Will Be the Next Dynasty in College Football'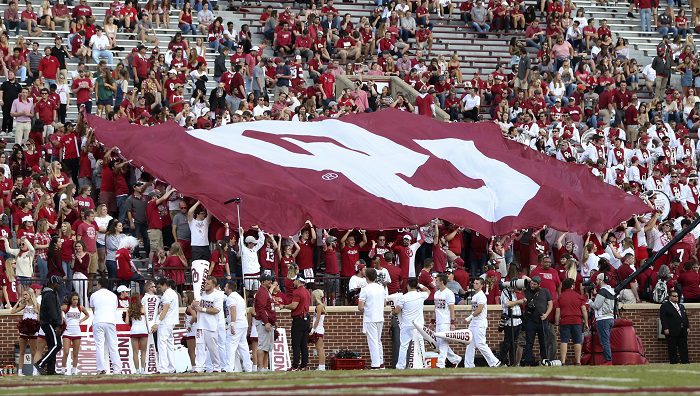 Brent Venables has assembled an impressive staff at Oklahoma, including the new Executive Director of Football Operations at Oklahoma, Thad Turnipseed.
Turnipseed followed Venables here from Clemson, where he was from 2013-21 under the title of Director of Football Recruiting and External Affairs. Under his watch, Clemson built their $55 million football complex that is among the nation's best football facilities and helped the Tigers develop into one of the national powers in college football.
Before Clemson, Turnipseed spent 11 years at Alabama, working closely with Nick Saban. He was responsible for seeing that Saban's dream came to fruition and spent over $150 million to make it happen. Now, the Crimson Tide is the standard in this sport, winning six of the last 13 national championships.
Now, he is tasked with taking Oklahoma to the top of college football, something that he was a part of at both Alabama and Clemson and he sounds confident that he will take the Sooners to the summit as well.
"We're going to be the next — however we have to get there — we're going to be the next dynasty in college football," Turnipseed said during his appearance on The Oklahoma Breakdown Podcast. "Nick Saban is 70 years old, he's not gonna be there forever. I'm just telling you, Oklahoma football, if we put all of these things in place. . . We will be the dynasty of college football. No doubt in my mind."
Part of his confidence is seeing Brent Venables' likeness to Nick Saban, who is unquestionably the best coach in the history of college football. After all, Venables was the reason that Turnipseed left his job at Clemson to come to Norman, Oklahoma. Teddy Lehman, the former Butkus Award winner for Oklahoma and co-host of the podcast, asked Turnipseed why he came to Oklahoma.
"The number one reason is because of Brent Venables," Turnipseed responded. "I think he's gonna be the face of college football. I love the guy. He's the closest thing to Nick Saban that I've ever seen. He's a relentless recruiter — loves recruiting — loves the game of football, highly intelligent with the X's and O's, and is just a good man.
"Brent Venables and I, kind of like Nick Saban, we're never going to be satisfied. When Alabama won [the national championship] in 2009, we get back to the hotel and everybody is celebrating. The SID comes and gets me [because] Nick Saban wants to see me in the room. I have no clue [why], we just won and it's 1:30 in the morning. I go into the room and before he went out and celebrated, he just wanted to go over the next three or four months on his calendar. We just won the natty, but Nick Saban wants to go over the next few months before celebrating. That's kind of how Brent is wired. If you don't enjoy the grind of what we do every day, you're not going to be successful.
He then went into his second reason for coming to Oklahoma, which is because, well, it's Oklahoma.
"The second reason: it's Oklahoma," Turnipseed said. "I'm 50 years old, I grew up in the heyday of Oklahoma. Someone asked me, 'what do people think about Oklahoma?' They think it's Oklahoma. They might not have won the national championship as of late, but it is nationwide, at least in the south, it carries a lot of weight.
Lastly, he went into his third reason which would be quite a feat if he is able to accomplish this goal.
"Selfishly, for the third reason, I'm 50," Turnipseed said. "I've still got to work 15 or 17 more years, but it would be pretty cool to win three national championships [with three different schools]. I've won six, lost two and won six, [I've won one] in the ACC and SEC, now if I could win one in the Big 12 before we go to the SEC. I don't know who else has won three national championships in three different conferences. That would be pretty a pretty good feat."
Now, there is some room to improve before Oklahoma is ready to hoist the College Football Playoff trophy, but the process is what Turnipseed is all about and it sounds like the people at Oklahoma are on board as well.
"We're good," Turnipseed said. "The challenge is that we're really good, but are we hungry enough to go from [good to great]? [Being] great is going to take buy-in from everyone. The good thing is, we have everything in place. The president (Joseph Harroz) here is phenomenal. Probably one of the most dynamic leaders that I've ever seen. He is totally bought in. There's a lot of work to do, but we're just taking it step by step. How do you eat an elephant? One bite at a time. We are very good [right now] and we could win at any level right now, today. Winning is hard but where Brent and I want to be the model program in all of college football for today's standard."