Baylor Bears
Three Reasons Why Jerome Tang Will Succeed, or Fail, as K-State Head Basketball Coach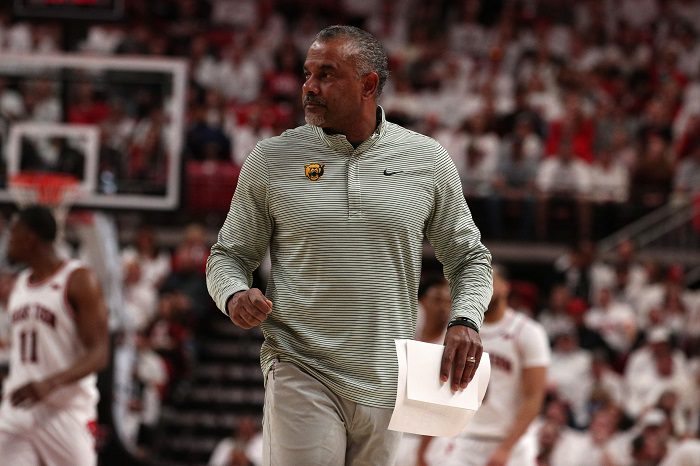 "Make the Octagon a place of DOOM! The toughest environment in college basketball! Best home-court advantage in America! We're gonna do it together!"…New K-State head coach Jerome Tang, in a video to K-State students that was posted online yesterday.
Jerome Tang is making an immediate splash as K-State's new basketball coach. One thing is for sure. I have not seen the K-State basketball fan base this excited since Bob Huggins was hired as K-State head coach in 2006. Is the excitement justified? I am not sure, and I am not sure that we will find out for a while. Even though the school's number one choice, Brad Underwood, turned the job down, Jerome Tang was always rumored to be their second choice. He was also a rumored candidate for openings at other Power 5 schools, the University of Missouri being one of them. One reason that fans are excited about the hire is that Tang chose K-State over those other job openings. Another reason they are excited is that he is already posting videos online to try and get the fan base onboard and hyped-up and is ready to get to work. Not to mention that he is already a quote machine. That doesn't hurt, either. Check out this gem…..
"The (K-State) student section is unbelievable. They terrify you. I remember them saying, 'Rogaine,' to one of our assistants, and it was just hilarious."
Memories of traveling to the "Octagon of Doom" as an associate coach at Baylor have stuck in Tang's memory. In a good way. It is one of the things that attracted him to K-State, which is very cool.
Bill Self said today that he called Tang to congratulate him on the job and got Tang's voice mail. The voice mail recording said, "It's a great day to be a Wildcat." My God, this guy has the EMAW running through his veins already!
While the rabid basketball fan portion of the fan base is over-the-top excited, the casual K-State basketball fan and those outside the program are a bit more skeptical that this hire will be a success. I understand both points of view. With that said, I will take a mediator's approach to the hire and list a few reasons why I think Jerome Tang can be successful at K-State and three reasons why he may not.
Three reasons Jerome Tang will succeed at K-State
1.) He can recruit
This is likely the biggest upside of Tang. He said in an interview yesterday "You need some dudes, right? At the end of the day, it's not rocket science. You have to get some dudes on campus."
It is encouraging to know that improving the talent on K-State's basketball roster is job number one. Tang is credited with securing commitments from quite a few four-star recruits for Baylor, including Langston Love, who was rated the number 28 player in the class of 2021. He has recruiting ties with high school coaches in Texas and has proven he can evaluate and secure NBA-caliber talent. Can he get that talent to come to Manhattan, Kansas? That is the question.
2.) A strong returning core roster
If Tang can get some key players to stay at K-State, he can turn things around rather quickly, assuming he can bring in a couple of studs to complement the existing basketball roster. Big 12 first-team selection Nijel Pack has entered his name into the NBA draft to test the waters, but he can still come back if he does not get drafted. If Pack, Markquis Nowell, Ish Massoud, and Selton Miguel stay, that gives Tang a solid core of players to build around. Can he turn it around as fast as T.J. Otzelberger did at Iowa State? The potential is there to do it.
3.) An energized fan base
I have written before how attendance has waned for K-State basketball. With this hire, there is a new buzz and energy among fans that has not existed for quite some time. If fans pack Bramlage again, K-State's home-court advantage will return. Casual fans will notice and, more importantly, recruits will see that K-State basketball is on the rise. That can only lead to positive things.
Three reasons Jerome Tang may fail at K-State:
1) No Power 5 head coaching experience
We know Tang can recruit but are equally unsure if he can recruit to Manhattan. A greater unknown is…can the guy coach? His only head coaching experience is ten years at Heritage Christian Academy in Cleveland, Texas, before getting hired at Baylor in 2003. He won four state championships in those ten years, so he has proven he can coach at the high school level. Other than four games coaching Baylor when Scott Drew was not available, there isn't any discernible data that tells us whether or not he can succeed as a head coach at this level. For that alone, this hire is a huge gamble.
2.) Assistant coach hires typically do not work out
Assistant head coaches promoted to head coaching positions do not typically work out, especially if they do not have experience coaching at this level. However, sometimes it works out just fine. Frank Martin at K-State is a recent example of a situation that worked out, but he also had some great players and a recruiting pipeline in place for the first few years of his tenure. Serving as an assistant or associate on a coaching staff, even at a great program such as Baylor, is very different than being the guy in charge of a program.
3.) If the fan base does not have patience
Expecting Jerome Tang to have a T.J. Otzelberger-like turnaround is setting expectations too high, in my opinion. He needs time to recruit and develop his players and learn how to run the program. In a way, it is going to be on-the-job training. There will likely be some growing pains. If he doesn't make the NCAA tournament his first three years on the job, fans will be bending Gene Taylor's ear about making a change. If the fan base and administration doesn't go "all-in" on Jerome Tang, and stay "all-in" for at least the first few years, the likelihood of his success is diminished.
Where do I stand on whether this hire will be successful or not? I like it more than I dislike it, that's for sure. I think there is a question about whether he can coach at this level and whether or not he can recruit to Manhattan. If he can do both, this hire will be a huge success, and all K-State fans will be happy. I'm in "wait and see" mode, but I like what I see from Tang so far in this brief period. Why am I a bit of a skeptic? I still remember the Ron Prince hire. Prince won the press conference and, shortly thereafter, went on a tour of all the Catbacker groups in Kansas. People loved him. They thought he was going to do great things at K-State. The buzz around him was unbelievable. Then he coached a game, and not even three years later he was fired for incompetence. That is why I feel some uncertainty about the Jerome Tang hire. I think K-State fans should temper the expectations a bit and see what happens. All we can do right now is get behind Coach Tang and help and support him and the program as much as we can and hope for the best.