Big 12 News
Bill Self on Taking Kansas Job: 'Buyer's Remorse for a While'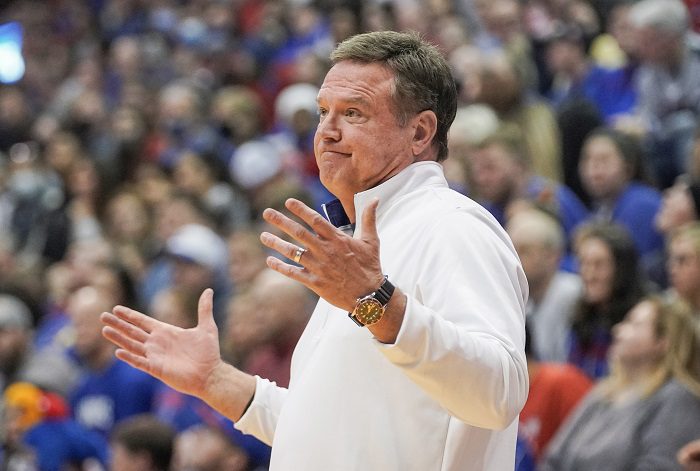 The media got Kansas coach Bill Self to reminisce a bit about his time at Illinois and taking the Kansas job during his press conference at the Sweet 16 in Chicago on Thursday.
Kansas, the No. 1 seed in the Midwest Region, will face Providence on Friday evening.
Self, who is already in the Naismith Basketball Hall of Fame and led Kansas to a national championship in 2008, was considered a rising star in the game when he took the job after a successful run at Illinois.
Bill Self won 78 games in three seasons with the Illini, taking them to the NCAA Tournament all three seasons, after which Kansas hired him to replace Roy Williams in 2003. At the time, Self had coached in Division I for a decade at three different schools (Oral Roberts, Tulsa and Illinois). Before that, he played at Oklahoma State and worked as an assistant coach under Larry Brown at Kansas, and under both Leonard Hamilton and Eddie Sutton at OSU. He took the head-coaching job at Oral Roberts in 1993.
It took five years for Self to take the Jayhawks to a title, something his predecessor had been unable to do before leaving for North Carolina. But, that doesn't mean that Self didn't have those days of self-doubt leading up to the title.
"But it was the right move for me to do what we did (come to Kansas)," Self said. "I doubted it. Buyer's remorse for a while because you never know, because the situation we left behind was pretty good, as you all know. But it's worked out well for us and certainly I'm very proud of the time I had in Champaign, even though it was limited."
His time at Illinois came up because the Midwest Regional is at the United Center in Chicago, a short drive from the Illinois campus. Self reminisced about his days driving up to Chicago and what the city represented to him at the time.
That included leading the Illini to Chicago for neutral site games and nearby Evanston for games against Big Ten rival Northwestern.
"When I was in Champaign and we came to the city a lot — and you guys don't care about it but since you asked — every time driving up and seeing the skyline, I used to think, 'Man, there's some stuff getting done in this city. This is where action happens.' Whether it be recruiting business or whatever. And I always liked that. I loved Chicago."
You can find Matthew Postins on Twitter @PostinsPostcard.