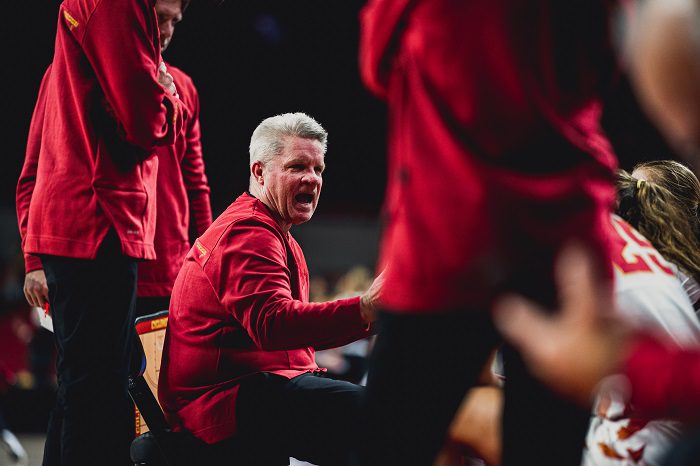 Here is everything you need to know about the Iowa State Cyclones and the Creighton Bluejays in our Iowa State vs. Creighton NCAA Tournament women's basketball preview.
NCAA Tournament
Greensboro Region – Sweet 16
No. 3 Iowa State (28-6) vs. No. 10 Creighton (22-9), 8:30 p.m., Friday, ESPN2, Greensboro Coliseum, Greensboro, N.C.
How They Got Here: Iowa State was an at-large selection from the Big 12. Creighton was an at-large selection from the Big EAST.
NCAA Tournament Results: Iowa State: def. UT-Arlington, 78-71 (first round), def. Georgia, 67-44 (second round); Creighton: def. Colorado, 84-74 (first round), def. Iowa, 64-62 (second round).
Winner Gets: A meeting with either South Carolina or North Carolina in the Elite Eight on Sunday.
Projected starting lineups
Iowa State: G Emily Ryan, G/F Ashley Joens, G Lexi Donarski, F Nyamer Diew, F Morgan Kane.
Creighton: G Tatum Rembao, G Lauren Jensen, G/F Carly Bachelor, F Emma Ronsiek, G Payton Brotzki.
Players to watch
Iowa State G/F Ashley Joens: Everything about this season has an air of finality to it for Joens, even though she could decide to stay at Iowa State for one more season if she triggers her COVID-19 year. But, last weekend at Hilton Coliseum she led her team to the Sweet 16 for the first time since 2010 with wins over UT-Arlington and Georgia. She was dominant against UTA with 36 points and 15 rebounds. Her TEAM was dominant against Georgia, as they started the game on an 11-0 run and never looked back. The Cyclones would love to sync that up — a dominant game from Joens in a dominant win in the Sweet 16. ESPN ranked her as the No. 4 player remaining in the NCAA Tournament. Not bad company when you consider the WNBA awaits if she decides not to return.
Creighton F Emma Ronsiek: She's just a sophomore but she's already one of the best players in the Big EAST. The 6-foot forward averages 14.7 points and 5.2 rebounds per game and shoots 50 percent from the field. She was a big part of the reason why Creighton beat Iowa on Sunday, as she had her fourth career double-double with 13 points and 10 rebounds. She's part of a half-dozen sophomores that could keep the Bluejays a significant part of the NCAA landscape for the next two seasons, as nearly all of them play a role now. Ronsiek, a two-time Big EAST Player of the Week and an underrated 3-point shooter (35 percent), just plays the biggest role right now.
Key storylines
Iowa State: The Cyclones haven't been to the Sweet 16 since 2010. And as consistently good as this program has been under Bill Fennelly, Iowa State has only been to the Elite Eight twice, with the last berth coming in 2009. Iowa State sees this as a golden opportunity. The Cyclones have the program's all-time leading scorer in Joens. They have the program's single-season assist leader in guard Emily Ryan, who averages more than 12 points per game. They have the Big 12 Defensive Player of the Year in Lexi Donarski, who averages more than 14 points per game. They have a host of players that know their roles, including Joens' younger sister, Aubrey, who by percentage is actually the team's best 3-point shooter. Iowa State feels like a team built to meet this particular moment.
Creighton: This is the Bluejays' first trip to the Sweet 16 in program history. The Bluejays have had good seasons before, but as a No. 10 seed their run is improbable. The win over Colorado was one thing. The win over Iowa in the final seconds was another. By beating the Hawkeyes they sent home one of the nation's best players in Caitlin Clark and robbed the state of Iowa of an enormous Sweet 16 in-state rivalry game. Creighton hardly cares. It's trying to become that rare No. 10 seed that reaches the Elite Eight. It has a roster packed to do it. Jensen was one of the Big EAST's most improved players. Morgan Maly was the Sixth Woman of the Year. Ronsiek was First-Team and Jensen was Second-Team. The Bluejays aren't scared of teams outside the Big EAST either. Ask Arizona State and Arkansas, both losers to the Bluejays this year. Arkansas made the NCAA Tournament.
Fun Fact
Iowa State leads the all-time series, 16-7. But the two teams have never met on a neutral floor. Their last meeting was a 63-59 win for Iowa State in 2008. Creighton hasn't beaten Iowa State since 1993.
Prediction
Iowa State 75, Creighton 70. Both teams have momentum. But Iowa State seems like the more talented team. Plus, this feels like a game that Ashley Joens will take over when it matters.
You can find Matthew Postins on Twitter @PostinsPostcard.