Big 12 News
New K-State Coach Jerome Tang: 'I'm Not Here to Rebuild, I'm Here to Elevate'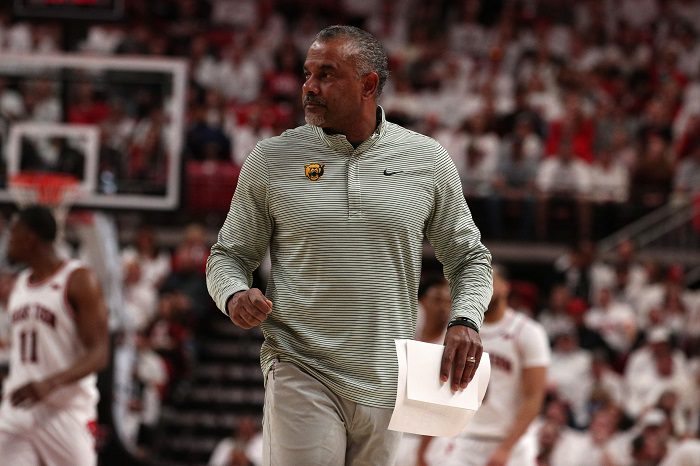 New Kansas State head coach Jerome Tang made it clear that he doesn't see the Wildcats as a rebuilding job as he spoke to the media for the first time on Thursday.
Tang's introductory press conference at Bramlage Coliseum was open to the public. After being introduced by athletic director Gene Taylor, Tang eschewed the typical podium speech and instead spoke and took questions with a wireless mic that felt more like a Ted talk than a basketball press conference.
To hear Tang say it, he doesn't believe it's going to take long to get Kansas State back into the top half of the Big 12.
"I'm not here to rebuild, I'm here to elevate," Tang said.
Tang, who spent 19 years as an assistant coach at Baylor, was one of the first hires Bears head coach Scott Drew made in 2003. Tang joined the program, even though at the time he didn't even have his bachelor's degree.
Heading into this hiring cycle he was one of the most sought-after assistant coaches on the market. He was the associate head coach at Baylor, where he supported recruiting and the Bears' defensive sets, among other things.
Tang said he's had chances to take other jobs, but they didn't come to fruition. So, he was naturally asked why Kansas State?
"Because Gene said yes," Tang said with a chuckle within earshot of his new athletic director.
But he continued, saying that he believes some of those potential opportunities had been blocked "on purpose."
"Because there was something greater that that was planned for my life," Tang said. "And I'm, you know, when people tell you no, it can impact your ego or make you feel bad about yourself, or you can say 'God's got something bigger for me.' I'm here. bigger, better."
Tang takes over a team that finished under-.500 for the third season in a row, which led to Bruce Weber's resignation after the Wildcats were eliminated from the Big 12 Tournament. The Wildcats were 14-17, 6-12 in Big 12 play. But, in mid-November, the Wildcats were .500 and being talked about as an NCAA Tournament bubble team before losing their last six games.
The Wildcats return most of their roster for the 2022-23 season. Guard Mike McGuirl and forward Mark Smith are out of eligibility. The only other senior was Drew Honas. The rest of the roster has players with at least one year of eligibility. Guard Nijel Pack, who was All-Big 12 First Team, declared for the NBA Draft on Tuesday, but can still return once the pre-draft process is complete.
Tang has already gotten to work in Manhattan. Tang has lured Texas assistant coach Ulric Malagi to his staff. Malagi was a part of Chris Beard's staffs at both Texas and Texas Tech.
You can find Matthew Postins on Twitter @PostinsPostcard.