Big 12 News
Nijel Pack On NBA Draft Declaration: 'Just to Get Better'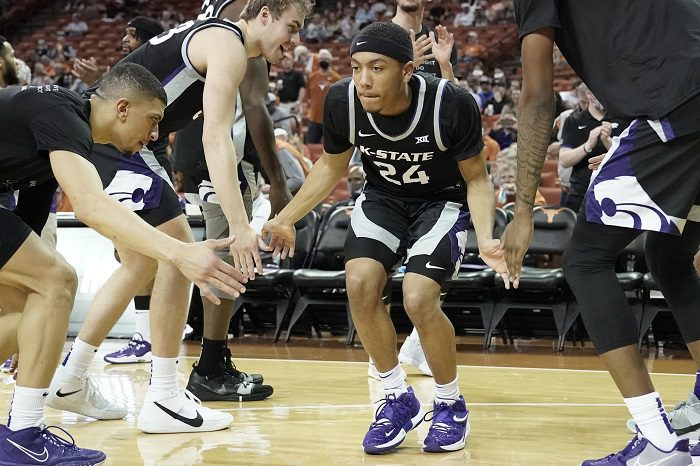 Kansas State guard Nijel Pack, who declared for the 2022 NBA Draft on Tuesday, said he did so "just to get better," whether it be at K-State or in the NBA.
Pack made the comments during the introductory press conference for new head coach Jerome Tang on Thursday. All of Kansas State's current players reportedly attended the press conference.
Pack's comment was conveyed by the Wichita Eagle's Kellis Robinett. Robinett tweeted out the quote.
"Just to get better," Pack said. Being a basketball player, the NBA is definitely everybody's end goal. To get the opportunity to go out and get better and get feedback … that's obviously what we all want."
Pack is the first Kansas State player to put his name in for the NBA Draft since the season ended earlier this month. He announced his declaration via Instagram.
At present, I would like to further explore new possibilities. It is with unwavering faith and joy that I am entering my name in the 2022 NBA Draft.
Pack had a huge sophomore season for the Wildcats, as he averaged 17.4 points, 3.8 rebounds and 2.2 assists per game while earning All-Big 12 First Team honors. With Markquis Nowell handling primary point guard duties, Pack's game grew fast.
He improved on his 3-point shooting, firing 43.6 percent from the arc. Pack had three 30-point games last season, including his 35-point game against Kansas in which he hit a season-high eight 3-pointers.
Pack can test the waters of the NBA Draft without losing his place at Kansas State. Doing so allows him to meet with NBA scouts, attend the NBA Scouting Combine if invited and get feedback from the league on his place in the draft before making a final decision.
Pack will have to make a decision before the NBA Draft in June.
You can find Matthew Postins on Twitter @PostinsPostcard.