featured
Oklahoma Fans: It is Better to Ignore Colin Cowherd, Rather than Indulge Him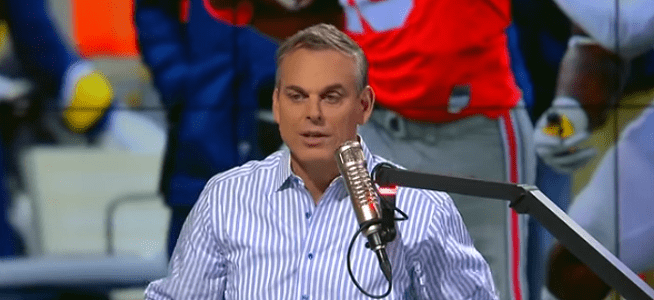 There is a lot to look forward to in 2022 around the Big 12. Plenty of fresh faces that we aren't quite familiar with but whenever you have a blueblood breaking in a new coach that always is the hot topic of conversation.
For once, I am not talking about Texas, who changes head coaches every two years. I am talking about the Oklahoma Sooners.
Over the last few months, no other Big 12 school has gone through more than the University of Oklahoma. This time a year ago, people were talking about Spencer Rattler being a number one overall pick and how the 2021 team was going to be the best Oklahoma team in the last ten years. Unfortunately, neither one of those things came true.
Lincoln Riley Took the Easy Way Out, and That's Fine
When the season arrived, expectations were sky high and instead of Oklahoma winning a seventh conference championship in row, they didn't even make the title game. And to make matters worse, head coach Lincoln Riley bolted to USC and took some key players with him.
People have their opinions on why Lincoln left and mine is this. Lincoln Riley wasn't ready to be in the SEC. Moving to USC and the worst "Power Five" conference in college football was the easy way out. He is going to make a ton of money to coach a blueblood program (Be it a dead one) and have one of the easiest Power Five schedules college football has to offer.
It's hard to blame a man for doing that, but my issue with him has been the fact that Lincoln had one foot already out the door last season. How can people expect a team to go give it their all on the field when their own head coach wasn't even bought in? I totally understand why Oklahoma fans were frustrated about all this and if you are on any form of social media, you have likely run across an angry Sooners fan or two. You have seen a hundred-plus "TBOW" references from fans and media members.
Colin Cowherd Says Things to Get Clicks, It's Business
While there seems to still be plenty of upset people in the state of Oklahoma, one man on the west coast appears to be drooling over Lincoln's move to Los Angeles and that of course is none other than Colin Cowherd. For those who don't know, Colin is a FOX Sports radio and television host based in Los Angeles who has connections to USC.
Over the last couple of months, Colin has found many ways to upset Oklahoma fans on his show, Twitter and has made multiple creepy videos like this one below.
Outside of the video being creepy, who in the hell smokes a cigar like that? I will tell you who, a total psychopath. As far as his USC football podcast would go, don't you need actual USC football fans for that? Have you seen the coliseum lately? I have seen more people attend a six-man football game down here in Texas than I have a USC game over the last two years. Okay, I get that 2020 was a whacky year for everyone due to COVID-19 but this past season what was the excuse?
The fact of the matter is that nobody cares about USC, and nobody cares about the Pac-12. Lincoln Riley is a good coach, I will give him that, but talent wasn't an issue at Oklahoma. Like I said before, the 2021 Oklahoma team should have been competing for a national title, but they didn't for reasons I mentioned earlier.
With spring practice underway, you are going to see a lot of stuff like this from Mr. Cowherd over the next few weeks.
If you actually believe this, then I would also like for you to know that I have some oceanfront property in Arizona like the great George Strait once said. You see, it doesn't matter what Lincoln Riley does because, in Colin's eyes, he can do no wrong. No matter what Lincoln says or does, Colin will be right there defending his every move. In fact, I am surprised he isn't wearing a USC jersey in his videos.
If Colin Cowherd if he wants to paint his face cardinal and gold on game days, then so be it. Let his cheers inside the coliseum be heard by all 25 fans in attendance. If he honestly believes that USC is going to magically turn around then let him think that. He's going to talk his way through the season and trust me, there are going to be a few speedbumps along the way next season despite playing a joke of a schedule. So go ahead Colin, buy that bubbly to celebrate a USC national championship because you'll never get to open it.
My message is to not listen or even worry about his takes on USC. You are going to waste your team getting upset over nothing. Do I want to hear his takes on college football and USC? Absolutely not. If nobody gives a flying *bleep* about college football in Pac-12 country then why should I or anyone else care? Colin and the people at FOX want those clicks in droves and will do whatever it takes to get them even if it means spewing out a bunch of garbage. But just like the garbage I take out; I never want to see it again and that is how you should approach Colin Cowherd during college football season.