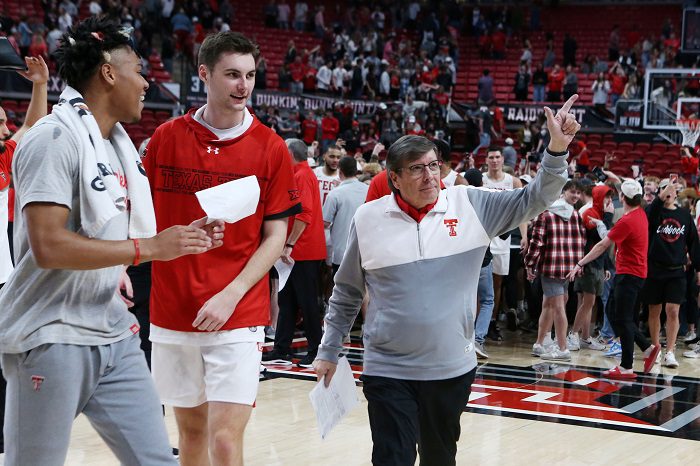 The Texas Tech Red Raiders and Duke Blue Devils will face off on Thursday night for a spot in the Elite Eight, and both teams come into the contest after gutsy wins in the Round of 32.
Duke won with offense, outscoring Tim Izzo's Michigan State Spartans 85-76, while the Red Raiders won with defense, limiting Notre Dame to 53 point in their 59-53 win. Now, something's got to give and that is why this matchup is so anticipated.
Texas Tech fans all over the country are gearing up to watch Naismith Coach of the Year Candidate Mark Adams lead the Red Raiders into battle and try to end Coach K's illustrious career with Duke.
Texas Tech Alumni Association President and CEO Curt Langford is one of the thousands of Red Raiders fans that will make the journey to San Francisco to watch his team take on Duke, and he knows that he won't be alone.
"The energy that we had in San Diego and the alumni that were there just have a lot of confidence in our players," Langford told the Lubbock Avalanche-Journal. "I think what's so neat is just how proud people are of this team.
"The energy and the team atmosphere that they show – it's clearly a reflection of Coach Adams and his crew. The hard work ethic, the way they play together, and I think it's helped everyone to realize, you know, don't underestimate what they can achieve."
Bailey Conklin, another Texas Tech alum, is excited to see her alma mater in San Francisco.
"I've never been to an NCAA Tournament game before and I'm just excited to watch Tech play Duke," Conklin said. "Plus, it's in a city I've never been to before and it could be Coach K's last game.
"It's the first time we're in the tournament with Coach Adams leading us, and I think it shows the resiliency and grit that we've built within the program."
Perhaps one of the people that needs this game the most is Jacksboro (TX) high school basketball coach, Alex Rodriguez. His family's home was struck by a tornado earlier this week, but the game tonight will give him a chance to escape for a couple of hours and just be a sports fan again.
Tip-off is scheduled for approximately 8:39 p.m. with the Red Raiders currently favored by 1.5 points.