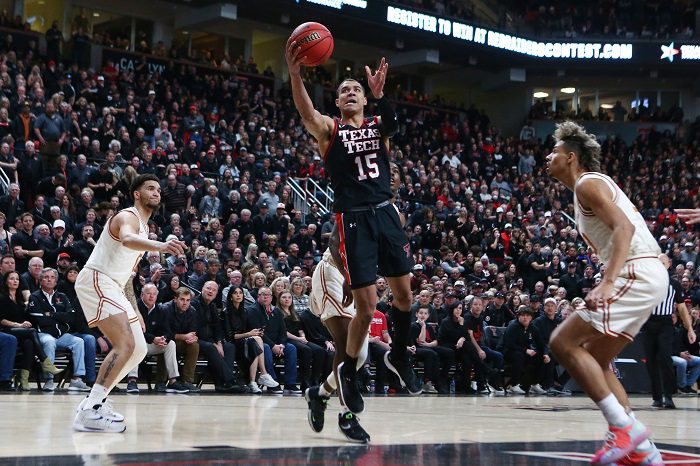 Here is everything you need to know about the Texas Tech Red Raiders and the Duke Blue Devils in our Texas Tech vs. Duke NCAA Tournament men's basketball preview.
NCAA Tournament
West Region — Sweet 16
No. 3 Texas Tech (27-9) vs. No. 2 Duke (30-6) Thursday, 8:39 p.m., CBS, Chase Center, San Francisco, Calif.
How They Got Here: Texas Tech was an at-large selection for the NCAA Tournament. Duke was an at-large selection for the NCAA Tournament.
NCAA Tournament Results: Texas Tech: def. Montana State, 97-62 (first round), def. Notre Dame, 59-53 (second round); Duke: def. Cal State-Fullerton, 78-61 (first round); def. Michigan State, 85-76 (second round).
Winner gets: A berth in the Elite Eight against either Gonzaga or Arkansas, which play at 6:09 p.m. on Thursday.
Projected starting lineups
Texas Tech: F Kevin Obanor, F Bryson Williams, G Adonis Arms, G/F Terrence Shannon Jr., G Davion Warren.
Duke: F Wendell Moore Jr., F AJ Griffin, F Paolo Banchero, C Mark Williams, G Jeremy Roach.
Players to watch
Texas Tech F Kevin Obanor: He has a unique distinction in the history of the NCAA Tournament. He is just the fourth player in the last 50 years to post a double-double in each of his first five NCAA Tournament games. That includes the three he played last year at Oral Roberts and his first two with Texas Tech last weekend in San Diego. His company is, well, outstanding — Shaquille O'Neal, Derek Strong and Larry Bird. So throw out what Obanor did in the regular season, and it was quality work. In March Madness, he's money. Going back to ORU, he averages 19 points and 11.8 rebounds in five tournament games. So, yeah, he's worth keeping an eye on.
Duke F Wendell Moore Jr.: On this young Blue Devils team, Moore is the 'been-there-and-done-that' guy. The junior is averaging 13.5 points, 5.4 rebounds and 4.6 assists per game. He also shoots 50.7 percent from the floor and 41.3 percent from the 3-point line. He also one of the few upperclassmen on a roster filled with young talent. Against Michigan State in the second round, he was one of the guys the Blue Devils turned to late. He finished with 15 points, four assists and two rebounds in the victory. Yes, forward Paolo Banchero gets a lot of publicity and could end up going No. 1 overall in the 2022 NBA Draft. But ESPN considers Moore a potential second-round pick, and he will be the outside shooter the Blue Devils turn to in the clutch.
Key storylines
Texas Tech: The Red Raiders managed to beat Notre Dame with one field goal in the final eight minutes of the game, and that field goal came at the end of the drought on a Kevin McCullar dunk. How? The Texas Tech way — defense and free throws. The Red Raiders forced key turnovers, they hit nearly every free throw down the stretch and Marcus Santos-Silva came up with two key blocked shots and even shot his free throws right-handed. You do what you have to do at this time of the year, right? The Red Raiders beat Montana State with a big burst of scoring from Terrence Shannon Jr. Kevin Obanor, as noted, had double-doubles in both games. But McCullar, Bryson Williams and Adonis Arms all had at least one good scoring game last weekend. There has been no drop off from the Red Raiders' regular season. But they must avoid a scoring drought like the one they experienced against Notre Dame.
Duke: The Blue Devils are, well, uniquely motivated. This is the final season for coach Mike Krzyzewski and each NCAA Tournament game could be his last. He will leave college basketball with five national championships (well, six if the Blue Devils find a way to win this tournament) and as the game's winningest coach. This team is a blend of experience like Moore, and youth, like Banchero. What the Blue Devils do have is offense. Five different players average double figures — Banchero (17.0), Moore (13.5), guard Trevor Keels (11.7), Williams (11.2) and Griffin (10.3). Keels comes off the bench. Roach, the fifth starter, averages 8.4 per game. Banchero and Williams each average more than seven rebounds. The Blue Devils don't commit many turnovers (just 10.2 per game), either. They're a team on a mission, and that's dangerous. They're also not terribly deep. Six players log at least 28 minutes per game. The drop-off after that is significant.
Fun Facts
In a game that could be decided by defense, Texas Tech comes in with a clear advantage. They're No. 1 in Ken Pomeroy's defensive efficiency rankings at 84.4. Duke is no slouch, but their efficiency rating is 95.4, which is No. 43. For perspective, eight Big 12 teams have a better defensive efficiency rating than Duke. Historically, the two programs have played just one time — Dec. 20, 2018, in New York City. Duke won, 69-58.
Prediction
Texas Tech 65, Duke 63. The game is an utter contrast. Texas Tech wants a slugfest. Duke wants an offensive showdown. Mark Adams is a Texas Tech lifer who has waited his entire life to lead his alma mater. Krzyzewski is the game's coaching standard who has coached at Duke since the 1980s and wants to exit a champion. The Red Raiders don't have a single player in NBA mock drafts. The Blue Devils have at least two. My bet is that the Blue Devils haven't seen a defense quite like Texas Tech's this season. If Coach K figures out how to beat it, then I expect the Blue Devils to reach the Final Four.
You can find Matthew Postins on Twitter @PostinsPostcard.