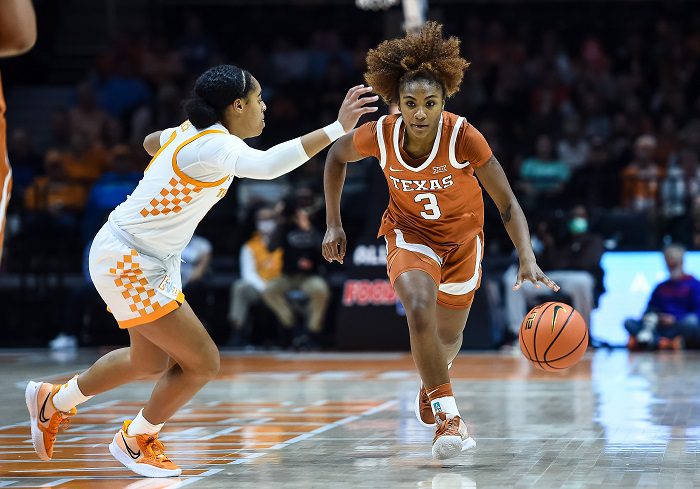 Here is everything you need to know about the Texas Longhorns and the Ohio State Buckeye in our Texas vs. Ohio State NCAA Women's Tournament preview.
NCAA Tournament
Spokane Region – Sweet 16
No. 2 Texas (28-6) vs. No. 6 Ohio State (25-6), 6 p.m. CT, Friday, ESPN2, Spokane Arena, Spokane, Wash.
How They Got Here: Texas won the Big 12's automatic bid. Ohio State received an at-large bid out of the Big Ten.
NCAA Tournament Results: Texas: def. Fairfield, 70-52 (first round), def. Utah, 78-56 (second round); Ohio State: def. Missouri State, 63-56, (first round), def. LSU, 79-64 (second round)
Winner Gets: A matchup against either Stanford or Maryland in the Elite Eight.
Projected starting lineups
Texas: G Rori Harmon, G Shay Holle, G Joanne Allen-Taylor, F DeYona Gaston, F Lauren Ebo.
Ohio State: F Rebeka Mikulasikova, G Rikki Harris, G Jacy Sheldon, G Taylor Mikesell, G Braxtin Miller.
Players to watch
Texas F Rori Harmon: Her credentials are undeniable at this point. She was the Big 12 Freshman of the Year. She was on the All-Big 12 Freshman and Defensive teams and was All-Big 12 Second Team. She was the Most Outstanding Player of the Big 12 Tournament. And, now, she's taking … a back seat to Aaliyah Moore? Harmon has played facilitator the past two games as Moore, a fellow freshman, has finally found her groove in the post for the Longhorns. So, Harmon isn't having big games anymore? So what? She's still averaging 11.4 points, 4.4 rebounds, 5.0 assists and 2.5 steals per game. There is no one for Texas that can impact the game like Harmon can — and she doesn't have to score 30 points to do it, either.
Ohio State G Jacy Sheldon: The Buckeyes are loaded with firepower on the perimeter, but Sheldon leads the Buckeyes in scoring (19.8 per game), assists (4.2 per game) and steals (1.9 per game). Sheldon had a huge game for OSU in the win over LSU, as he had 23 points, eight assists and three steals. She scored 33 points in a game against Michigan State earlier this season. And, like her Texas counterpart, Harmon, she's well-honored. Sheldon was All-Big Ten First Team, Defensive Team and All-Tournament team. When it comes to OSU's offense, she has the keys and she's in the driver's seat.
Key storylines
Texas: These Longhorns feel like they're peaking at the absolute right time. They've won 13 straight games, dating back to their back-to-back losses to Baylor in February. Harmon's play put her center stage at the Big 12 Tournament. But Moore's surge the past three games has given Texas a weapon it hasn't had all season. Head coach Vic Schaefer toyed with starting Moore against Utah and decided against it. Her 21-point game isn't an indictment of that decision, but rather a validation that the Longhorns are finely-tuned for the Sweet 16. Texas now has four options in the paint and five options on the perimeter. Few teams can boast that kind of depth at this point in the tournament. Texas is trying to get back to the Final Four for the first time since 2003. The road ahead is still arduous, but Texas is in the best shape it's been all season.
Ohio State: Schaefer said watching Ohio State play defense was like looking in a mirror. That means the Buckeyes, like the Longhorns, love to press and turn you over. OSU head coach Kevin McGuff has shown all season he has the personnel to play that sort of basketball. That defensive philosophy is why the Buckeyes were able to rob LSU of a trip to the Sweet 16. Ohio State hasn't been this far in the tournament since 2017, but this is the 17th time the Buckeyes have reached the second weekend. OSU hasn't been to an Elite Eight since their national championship game run in 1993. OSU has the talent to change that. Watch out for Mikesell, who averages 18.6 points per game, and Mikulasikova, who averages 9.6 points and 5.0 rebounds per game. OSU is a great rebounding team as a group and shoots the ball well from the 3-point line (37.8 percent). Mikesell is the one to watch from the arc, as she shoots an incredible 47 percent.
Fun Fact
When Arizona had to drop out of its neutral site game with Texas due to COVID-19 in December, one of the teams that Texas asked to fill the spot was Ohio State. The Buckeyes turned Texas down and the Longhorns filled the spot with San Diego instead.
Prediction
Texas 64, Ohio State 60. Texas feels like the hotter team right now. And Texas knows the potential that awaits — a rematch with the defending champion, Stanford, a team the Longhorns beat in November.
You can find Matthew Postins on Twitter @PostinsPostcard.