Big 12 News
Watch: How Jerome Tang and Scott Drew Celebrated His New Job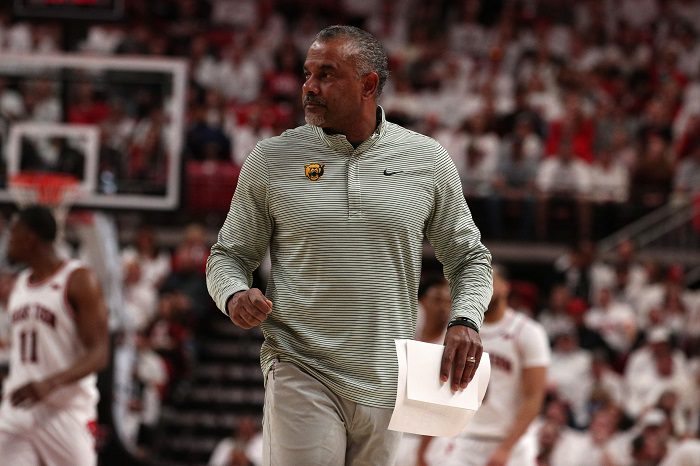 New Kansas State head coach Jerome Tang talked about how he and his former boss, Baylor head coach Scott Drew, celebrated his new job on Thursday.
Tang, the long-time Baylor assistant coach, mentioned that Drew was given a bottle of wine upon his hiring as Baylor's head coach in 2003. That bottle of wine remain corked, through winning seasons, through Sweet 16 appearances, even through the Bears' national championship run last season.
But, after Tang accepted the K-State job, Drew came over to Tang's house in Waco and, finally, opened up that bottle.
"When coach Drew found out I got the job, he came over that night," Tang said. "He brought with him a bottle of wine that someone had given him in 2003 when he took the job at Baylor and they told him, 'I want you to drink this when you want to celebrate something that's really, really great.'
"Well, we won an NIT championship, we won went to Sweet Sixteens, went to two Elite Eights, went to final for the national championship and won the Big 12 again (this season) and that bottle was still closed. But when I got this job he came over with his wife to open that with me."
Tang says that's the bond he forged with Drew in working for him for 19 seasons, and the bonds that he hopes to create in Manhattan.
"See those kinds of ties, those deep bonds that take colleagues to become friends and then to become brothers for life," Tang said. "That's what we're gonna do here."
Tang accepted the job shortly after the Bears were eliminated from the NCAA Tournament. Reportedly, K-State athletic director Gene Taylor talked to several sitting head coaches, but hired Tang, one of the most sought-after assistant coaches on the market.
He's already gotten to work in Manhattan. Tang has lured Texas assistant coach Ulric Malagi to his staff. Malagi was a part of Chris Beard's staffs at both Texas and Texas Tech. One of Tang's early tasks will be managing the NBA aspirations of guard Nijel Pack, who declared for the NBA Draft on Tuesday. Pack can still return to K-State next season.
You can find Matthew Postins on Twitter @PostinsPostcard.