Big 12 News
Kansas State's Selton Miguel Submits Name to Transfer Portal: Report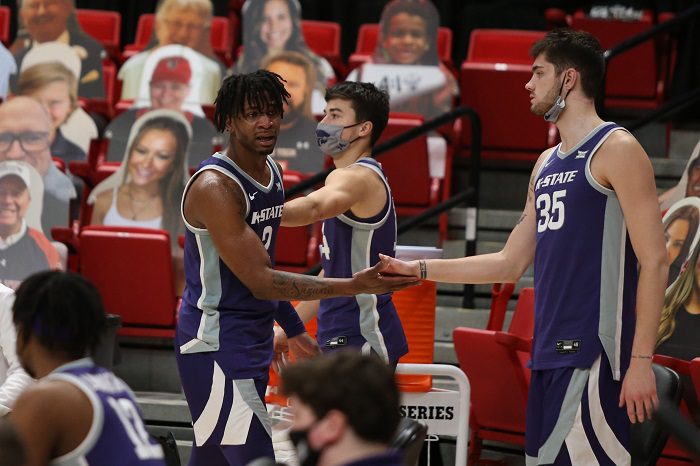 Kansas State's Selton Miguel has reportedly submitted his name to the transfer portal, making him the first Wildcat to do so this offseason.
The report comes just a day after new head coach Jerome Tang had his introductory news conference as he takes over the program. It also comes less than a week after sophomore guard Nijel Pack declared for the NBA Draft.
Miguel's submission to the portal was reported by Jake Weingarten of Stockrisers.com.
He was a starter for most of his freshman season, as former head coach Bruce Weber pushed his freshman class into primary roles in 2020-21. Last summer, Miguel played with the Angolan national team during Olympic qualifying, which some saw as a prelude to a bigger role with Kansas State.
Miguel didn't start regularly in 2021-22, but he did average 7.2 points, 4.0 rebounds and 1.7 assists per game. He matched his scoring average from his freshman season and bettered his rebounding average by nearly a board per game.
By Friday afternoon, Miguel had not made an announcement via social media. Also, Miguel can leave open the possibility of returning. When Texas Tech's Terrence Shannon Jr. submitted his name to the portal on Friday, he left open the possibility of returning to Lubbock.
Big 12 2021-22 Transfer List
(Out: after 2021-22 season; In: for 2022-23 season; new/old school in parenthesis)
Baylor
Out: F Dain Dainja (Illinois)
Iowa State
Out: C Xavier Foster, F Blake Hinson, F Javan Johnson (DePaul)
In: F Tre King (Georgetown)
Kansas State
Out: G Selton Miguel
Oklahoma State
Out: G Donovan Williams, F Keylan Boone
TCU
Out: G Cashius McNeilly (Northern Oklahoma College-Tonkawa)
Texas
Out: F Jaylon Tyson (Texas Tech)
Texas Tech
Out: G Sardaar Calhoun (Drake), G/F Terrence Shannon Jr.*
In: F Jaylon Tyson, (Texas)
West Virginia
Out: F Jalen Bridges, C Isiaah Cottrell, F Seny Ndiaye, F Taj Thweatt (Coastal Carolina)
*-Has indicated he may return