Big 12 News
Mike Gundy's Raise Makes Him Highest-Paid Big 12 Coach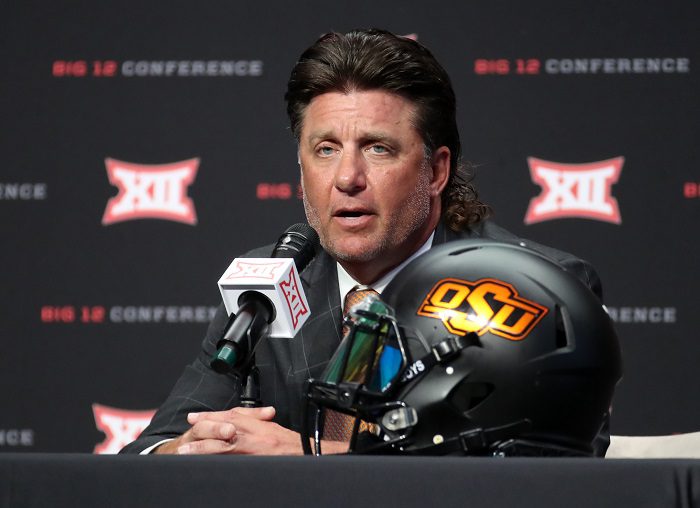 Mike Gundy is now the highest-paid football coach in the Big 12 Conference.
The Oklahoma State University Board of Regents approved a raise in Gundy's contract, which increases his annual salary from $5 million to $7.5 million. Gundy will be awarded a $1 million raise in annual compensation and a $1 million bonus for remaining with the program.
"This next-level commitment from our president, Dr. Kayse Shrum, athletic director Chad Weiberg and our Board of Regents is a monumental step in solidifying Cowboy Football for the future as a national brand," Gundy said in a statement.
"There is an unprecedented change occurring in college athletics," said athletic director Chad Weiberg in a statement. "Investing in our successful football program at this time is an investment in the future of OSU athletics and the continued growth of Oklahoma State University."
Mike Gundy has turned Oklahoma State into the 10th winningest program in the country. Gundy is a two-time Big 12 coach of the year and has helped the program reach 16-straight bowl games.
Gundy's raise means he's making $500,000 more than new Oklahoma coach Brent Venables. Gundy's $7.5 million is the largest annual contract for a Big 12 coach, however Baylor and TCU are private universities, and its coach contracts aren't public knowledge.
Gundy led the Cowboys to the 2021 Big 12 Championship Game, where they fell short against the Baylor Bears. Oklahoma State then beat Notre Dame in the Fiesta Bowl.