Kansas Jayhawks
Remy Martin Finally 'Trouble' As Kansas Readies for Providence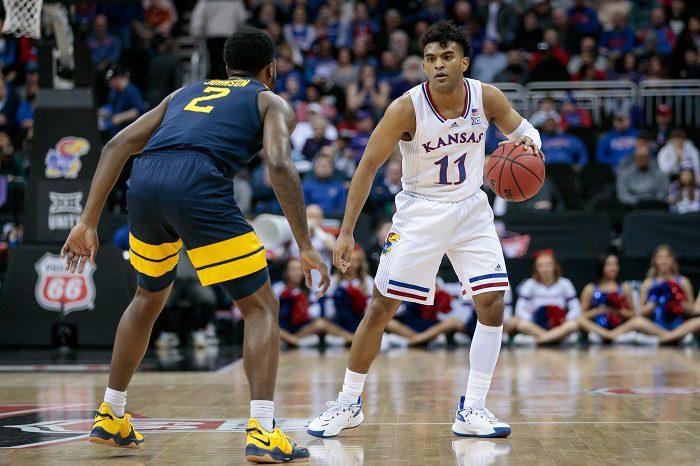 I remember thinking, 'Oh, yeah, he's gonna be trouble.'
I was at Allen Fieldhouse in December for Kansas' game with Stephen F. Austin. The Jayhawks were locked in a tight game with the Lumberjacks, a team that had beaten Duke on the road just a couple of seasons ago.
SFA needed a stop in a one-possession game in the final minute. The Lumberjacks pulled it off. All they needed to do was grab the rebound and then Mitch Lightfoot tapped the ball out to … Remy Martin.
He gathered the ball, set up for a three and drained it. It was cold-blooded, the kind of basket you expect a player like Martin to make in March, as well as December.
I filed it away as I walked out that chilly night. At the time, Martin was a starter and appeared on the cusp of blowing up offensively.
Then, the injury happened. And the long, nagging recovery. The rise of Jalen Wilson, which sent Martin to the bench. The inconsistent playing time and the unknown of what impact he could make on a team where the rotation appeared to be set.
But, on Saturday, about six minutes into the Jayhawks' game with Creighton, there it was again. That 3-pointer. That cold-blooded 3-pointer.
Jalen Wilson saw it, too.
"He makes our team go farther than what we could without him," Wilson said.
Martin is on an uptick, something that would have been hard to predict two weeks ago in Kansas City if you saw the first game of the Big 12 Tournament. That game, against West Virginia, Martin played 12 minutes and scored four points.
Kansas head coach Bill Self said he liked what he saw that evening, but there was no hint of what was coming.
Ten points in 19 minutes against TCU.
Twelve points in 26 minutes against Texas Tech.
Fifteen points in 21 minutes against Texas Southern.
Twenty points in 29 minutes against Creighton.
It's hard to change the complexion of a team this late in a season, especially one like Kansas, where the rotation is basically set. Where a player like guard Ochai Agbaji is the focal point and a player like David McCormack is fighting through an injury that won't quite heal.
But Martin is doing it. His shooting performance in the first half was something that you don't expect from a point guard, said Kansas head coach Bill Self.
It's certainly something Self couldn't have expected just a few weeks ago when Martin played just four minutes against TCU on March 3.
It could be why he said that Kansas might not have been able to win a game like the one they won against Creighton just a couple of months ago.
"We're a different team with him," Self said.
Martin transferred to Kansas after developing a reputation as a scorer at Arizona State. He scored nearly 20 points per game for two seasons while dishing out about three assists per game.
But he came to Kansas for something more than points. He came to take a shot at a national title. Self brought him to Kansas because, after losing in the second round of the NCAA Tournament last season, he knew his team needed something more. Something like Martin's quickness and natural play.
Martin's scoring average has dropped by more than 10 points this season. Some of that was the injury. Some of that was integrating into a new team with four returning starters.
It's not lost on his teammates that, in the last four games, Martin has averaged 14.3 points per game. It's not lost his teammates that, in the last four games, he's made a difference in the Jayhawks' hopes to win a national championship.
Even if the journey has been bumpy for everyone.
"I just like wearing this uniform," Martin said. "I love everything about it. I just love playing the game itself. So I'm just happy."
Three months later, yes, he's gonna be trouble.
You can find Matthew Postins on Twitter @PostinsPostcard.