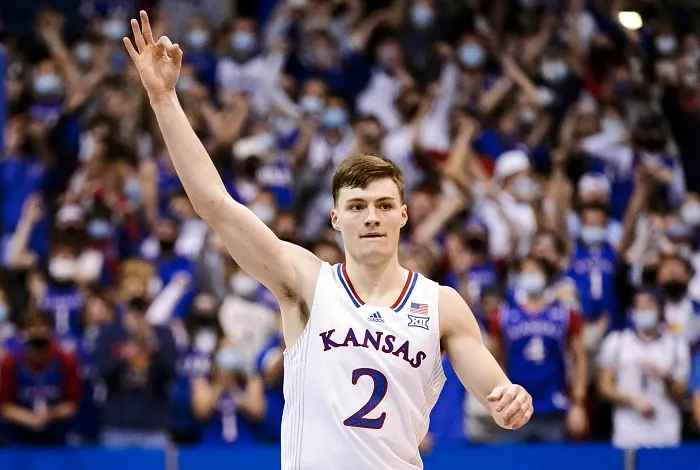 Here is everything you need to know about the Kansas Jayhawks and the Miami Hurricanes in our Kansas vs. Miami NCAA Tournament men's basketball preview.
NCAA Tournament
Midwest Region – Elite Eight
No. 1 Kansas (31-6) vs. No. 10 Miami (FL) (26-7) Sunday, 1:20 p.m. CT, CBS, United Center, Chicago, Ill.
How They Got Here: Kansas won the Big 12 Conference tournament. Miami received an at-large bid out of the ACC.
NCAA Tournament results: Kansas: def. Texas Southern, 83-56 (first round); def. Creighton, 79-72 (second round); def. Providence, 66-61 (Sweet 16). Miami: def. USC, 68-66 (first round); def. Auburn, 79-61 (second round); def. Iowa State, 70-56 (Sweet 16)
Winner gets: A berth in the Final Four in New Orleans next week, where they will face either Arizona or Houston in the national semifinals.
Projected starting lineups
Kansas: G Christian Braun, G Dajuan Harris Jr., F Jalen Wilson, G Ochai Agbaji, F David McCormack.
Miami: G Isaiah Wong, G Charlie Moore, G Jordan Miller, F Sam Waardenburg, G Kameron McGusty.
Players to watch
Kansas G Remy Martin: You can make a strong case that Kansas wouldn't have gotten this far without Martin. You can make a strong case that the Jayhawks would not have beaten Providence on Friday without Martin, who delivered 23 points off the bench to lead Kansas to victory. Martin's energy off the bench is infectious. His teammates are feeding off of it. The Kansas fans are feeding off of it. Even head coach Bill Self is feeding off of it. Since scoring no points in Kansas' home win over TCU on March 3, Martin has increased his scoring in every game — 2, 4, 10, 12, 15, 20 and 23 points. He's averaging 12.2 points in that span, but 19.3 points in his three NCAA Tournament games. He's making his decision to leave Arizona State for Kansas, despite his injuries woes during Big 12 play, look great.
Miami G Kameron McGusty: Against Iowa State McGusty had an incredible game, dropping in 27 points — 10 more than his season average entering the game — along with six rebounds. Of bigger consequence were his four 3-pointers, and some of those helped Miami build that double-digit lead in the second half that the Cyclones could not overcome. He's one of those 'sixth-year' players that are taking over this tournament. He played two years at Oklahoma, sat out for a season after transferring to Miami, and is now playing on his COVID-19 season. He's also averaging five rebounds and 2.5 assists per game. If you watched the game with Iowa State, you know that the Hurricanes have a collection of talent. But you also know that they take their cues from McGusty.
Key storylines
Kansas: Kansas did not look good offensively against Providence, but with Martin and Jalen Wilson (who had an invaluable double-double with 16 points and 11 rebounds) leading the way, Kansas prevailed. If anything, Kansas' defensive performance, especially in the first half, was more impressive. The Jayhawks held Providence to 17 first-half points, the fewest the Friars had scored in a first half in any game since 1966. Everyone else had a tepid game, including Naismith Player of the Year finalist Ochai Agbaji (five points). But, he still managed to contribute, with a career-high four blocked shots. So did guard Christian Braun, who grabbed 10 rebounds and scored eight points. The Jayhawks needed the rebounding because forward David McCormack was ineffective. With Friday's win, the Jayhawks now have 2,354 wins, most all-time. Kansas is 15-10 in the Elite Eight and 3-5 under Self in this round. Kansas is seeking its first trip to the Final Four since 2018.
Miami: Unlike Kansas, the Hurricanes are making their first Elite Eight appearance in program history and was one of three ACC teams to reach the Elite Eight (Duke, North Carolina). Miami is definitely not the 'blue blood' in this conversation, but here it is. Miami showed that Ken Pomeroy defensive ratings can be deceiving. The Hurricanes were No. 130 in KenPom entering the Iowa State game but had one of the best turnover ratios in the NCAA Tournament (plus-14). Miami did commit 14 turnovers, twice as many as they had in its first two tournament games, but the Hurricanes forced Iowa State into 18 turnovers and turned those into 14 points. McGusty is great, but keep an eye on guard Jordan Miller, who had 16 points, and forward Sam Waardenburg, who had 13 points and eight rebounds. The Hurricanes are a team that can score quick, score often and knows how to hold a lead. Miami head coach Jim Larranaga is trying to get back to the Final Four for the first time since leading George Mason there in 2006.
Fun Fact
Kansas is 3-1 all-time against Miami. While the pair have never played in the NCAA Tournament, their four matchups are concentrated in a four-year period from 1987-91 when the two teams always seemed to play in January. Miami's only win was an 87-86 win over then-No. 16 Kansas on Jan. 12, 1989. The game was in Miami. The two teams have never met on a neutral site.
Prediction
Kansas 71, Miami 67. Kansas is better defensively than most think, but their offensive showing against Providence left a lot to be desired. The Friars' toughness on defense had something to do with that. Miami relies on turning you over, and the Hurricanes are good at it. If Kansas protects the ball, gets Agbaji going offensively and wins the rebounding battle (that means McCormack needs to have a better game) then Kansas could be headed to New Orleans. Kansas needs to ensure it defends McGusty well. The Jayhawks cannot allow him to take over the game, as he did against Iowa State.
You can find Matthew Postins on Twitter @PostinsPostcard.