Baylor Bears
Big 12 Baseball: Four Big Teams Clinch Series on Saturday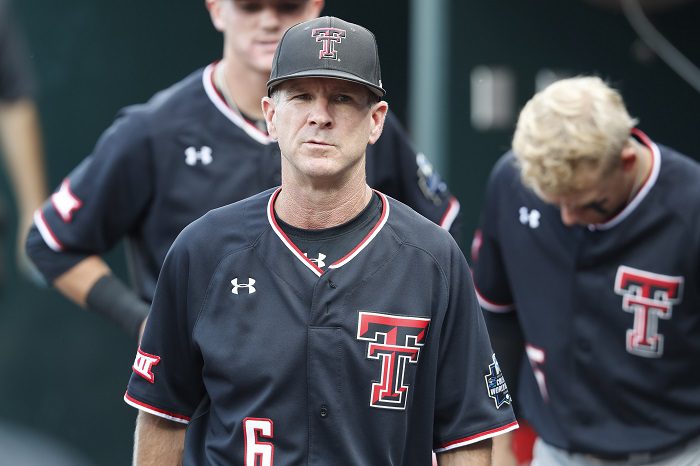 We are in the sixth full weekend of the season as all nine Big 12 teams (sorry Iowa State) are back in action on the diamond this weekend. There are several big-time matchups around the conference and here is what happened in the Big 12 on Saturday.
Notable Games
#17 Texas Tech: 16 #2 Texas: 12
What a game out in Lubbock yesterday afternoon. The Red Raiders jumped out to a 7-2 lead in the first inning as Texas starting pitcher Tristan Stevens was pulled early. Easton Murrell started the inning with a solo home run, and it ended with Parker Kelly driving in a couple to give Tech a five-run lead. But the Longhorns made a comeback starting in the fifth inning with Ivan Melendez who hit two homers in the game. Murphy Stehly would also hit one that same inning and just two innings later Silas Ardoin and Skyler Messinger would tie the game up at seven with key hits.
Believe it or not, Texas recaptured the lead in the eighth inning thanks to another Murhpy Stehly blast that put three on the board and Sklyer Messinger who drove in another run to put Texas on top 11-7. But in this whacky game, it was far from over. In that same inning, Texas Tech found a way to tie the game as Hudson White hit a sac-fly while Easton Murrell and Cole Stilwell had some big hits to bring in a few more.
This game then went into extras as Texas took the lead back in the tenth inning when Douglas Hodo III hit an RBI double, but it was once again Texas Tech who had the last laugh. With the bases loaded, Kurt Wilson hit a grand slam to give his team the victory on Saturday. Kurt was the same man who stole home on Friday night to win and he did it once again on Saturday as his team takes the series from the number two team in the nation.
#9 Oklahoma State: 4 Kansas: 3
The Jayhawks struck first in this one as Maui Ahuna hit two RBIs in the first three innings to give Kansas a 2-0 lead. But Oklahoma State would finally get on the board in the fourth inning as Nolan McLean would bring in a run. Where this game was won was in the sixth inning. The Cowboys added three runs in that inning as David Mendham drove in a run to start things off and then were able to add two more thanks to some mistakes by the Jayhawks. Kansas would add a final run in the seventh inning, but it wasn't enough to win the game as Oklahoma State takes the series in the first two games.
#19 TCU: 14 Kansas State: 5
Just like in the two games above, the visiting team got off to a fast start getting an early lead. Kansas State put two runs up quickly in this one as an error and a Dominic Johnson RBI gave the Wildcats an early lead. TCU would answer quickly though as Tommy Sacco and Luke Boyers helped tie the game at two in the third inning, but Kansas State recaptured the lead thanks to a pair of solo homers from Dominic Hughes and Kaelen Culpepper.
After Kansas State had a 5-2 lead, it was all TCU from there. The Frogs would go on to score a whopping twelve runs in a span of three innings and never looked back. During those three big innings, Tommy Sacco would homer twice leading the charge. It was a big win for TCU as they take the series against a hot Kansas State team.
Oklahoma: 9 Baylor: 5
This game was a pitching battle early on between Kobe Andrade and David Sandlin, but it was the Bears who struck first in the fourth inning as Kyle Nevin put Baylor up 1-0 after his solo bomb. Alex Gonzales would bring in run in the next inning before a wild pitch helped give Baylor a 3-0 lead in the sixth. Later in that same inning, Diego Muniz finally put the Sooners on the board to pull within two.
Baylor would add to their lead in the eighth inning to make it a 5-1 ballgame, but Oklahoma's Tanner Tredaway hit a grand slam to tie the game in the bottom of that same inning. Then in the final inning, it was Peyton Graham time as he hit a walk off homer to give the Sooners the series clinching win.
Other Games
West Virginia: 13 Youngstown State: 2