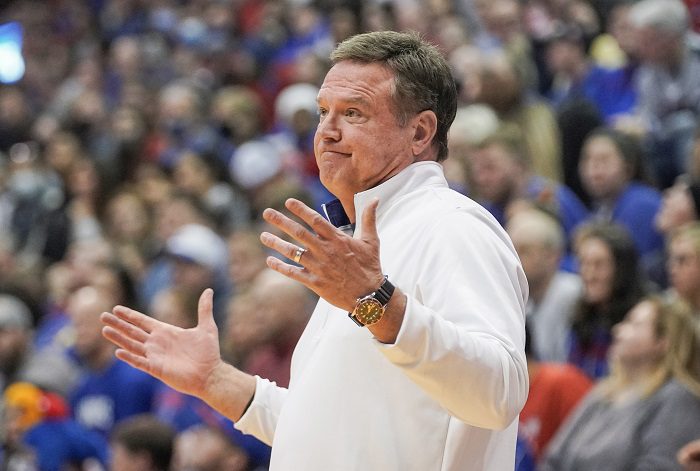 Kansas head coach Bill Self said he used a player, KJ Adams, to challenge his team to play better defense at halftime of Sunday's game against Miami.
The Jayhawks were down six points, 35-29, at the break, as the Hurricanes went on a 9-2 run to end the first half of their Elite Eight showdown with Kansas.
The Jayhawks weren't clicking on offense. They certainly weren't clicking on defense, either. Along with giving up 35 first-half points, Miami's leading scorer, Kameron McGusty, had already scored 14 points.
But, at the end of the first half, with Miami trying to add an extra bucket, Self inserted Adams into the game. The 6-foot-7 freshman from Austin, Texas, averages roughly five minutes per game.
It was Adams who guarded McGusty and basically face-guarded the sixth-year senior into missing his final shot of the half.
One would have expected Self to implore his team to play better defense. Instead, he told them to play more like Adams.
"I did tell them that KJ Adams gave us the best 29 seconds defensively than anybody did the entire first half," Self said. "And just challenged our guys to guard them. And they did."
As good as the Kansas offense was in the second half, its defense was even better. The Jayhawks held Miami to 15 second-half points and held the Hurricanes to 34.7 percent shooting for the game, right around the 34.1 percent field goal defense the Jayhawks had entering the game.
Kansas won, 76-50.
It took one freshman less than a minute to put the Jayhawks on the right path.
"The intensity picked up defensively and then we had about two good plays turn into four, turn into eight, which turned into 16," Self said. "That was about as well as we could play the second half."
You can find Matthew Postins on Twitter @PostinsPostcard.