Big 12 Previews
Texas vs. Stanford NCAA Women's Basketball Preview and Prediction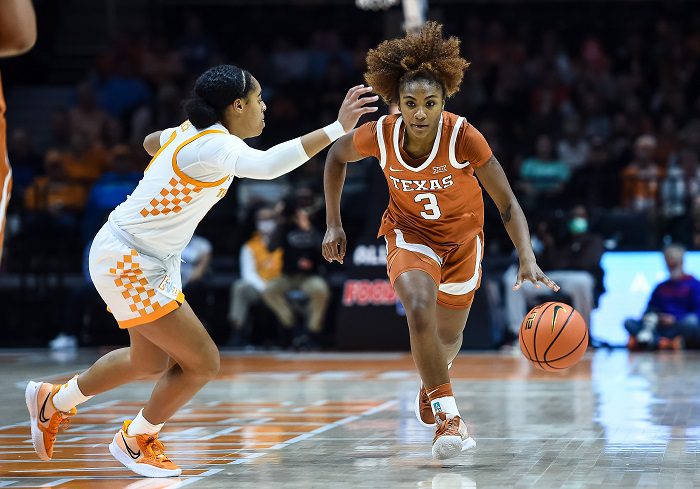 Here is everything you need to know about the Texas Longhorns and the Stanford Cardinal in our Texas vs. Stanford NCAA Women's Tournament preview.
NCAA Tournament
Spokane Region – Elite Eight
No. 2 Texas (29-6) vs. No. 1 Stanford (31-3), 8 p.m. CT, Sunday, ESPN, Spokane Arena, Spokane, Wash.
How They Got Here: Texas won the Big 12's automatic bid. Stanford won the Pac-12's automatic bid.
NCAA Tournament Results: Texas: def. Fairfield, 70-52 (first round), def. Utah, 78-56 (second round), def. Ohio State, 66-63 (Sweet 16); Stanford: def. Montana State, 78-37, (first round), def. Kansas, 91-65 (second round); def. Maryland, 72-66 (Sweet 16).
Meetings this season: Texas def. Stanford, 61-56, on Nov. 14, 2021, in Palo Alto, Calif.
Winner Gets: A trip to the Final Four next weekend in Minneapolis.
Projected starting lineups
Texas: G Rori Harmon, G Shay Holle, G Joanne Allen-Taylor, F DeYona Gaston, F Lauren Ebo.
Stanford: F Cameron Brink, G Haley Jones, G Lacie Hull, G Lexie Hull, G Anna Wilson.
Players to watch
Texas G Joanne Allen-Taylor: Give it up for the senior. When freshman guard Rori Harmon fell into foul trouble late in the first quarter, the game fell into her hands, and she delivered. She ended up leading Texas with 17 points, dishing out three assists and coming up with a steal. Harmon played just 22 minutes, so Allen-Taylor played nearly the entire game (38 minutes). The reality is that Allen-Taylor was the only returning full-time starter from last year's Elite Eight run, and she's been Texas' steadiest player from Day 1 this season. Allen-Taylor is averaging 11.2 points per game. She's not the Longhorn's leading scorer this season. But, like Harmon, she's a 'glue' player that Texas can't do without when the game comes down to its final minutes.
Stanford G Lexie Hull: Go all the way back to the meeting between Texas and Stanford back in November and you'll see that Hull, even in the loss, was a thorn in Texas' side the entire game. She played 33 minutes and put together a double-double — 16 points and 11 rebounds — as Texas paid particular attention to forward Cameron Brink. Like all of Stanford's starters, Hull was part of the Cardinal's national title run last season. This season, she's averaging 12.5 points, 5.3 rebounds and 2.0 assists. At 6-foot-1 and as a 40 percent 3-point shooter, the senior plays like a guard but she can play down low like a forward. Who guards her for Texas will be key, and expect multiple defenders to take a shot and Hull.
Key storylines
Texas: Fourteen straight wins for Texas and now it's right back to where it was a year ago at this time — the Elite Eight. Texas is also facing a team it beat earlier this season. That was just Texas' second game of the season. In that game, Texas played through guards Aliyah Matharu (17 points with four 3-pointers) and Harmon (21 points). Forward Aaliyah Moore was playing at that time and she had nine points and five rebounds. Now, Texas is different. Moore is coming off the bench but playing her best basketball. Forward Lauren Ebo, who played 25 minutes off the bench against Stanford, is in a groove. Forward DeYona Gaston has grown considerably. Guard Shay Holle didn't even play in the game and she's now a starter, with guard Audrey Warren coming off the bench. Texas is trying to reach the Final Four for the first time since 2003. Head coach Vic Schaefer is trying to get back to the Final Four for the third time, but his first as Texas head coach.
Stanford: The defending national champions cut through Pac-12 play like a hot knife through butter, winning every game and claiming the Pac-12 title. Texas was one of Stanford's three losses, and other two came against UCF (which nearly beat UConn in the second round) and South Carolina, the nation's No. 1 team all season. Stanford's first meeting with Texas saw Lexie Hull and Haley Jones (15 points, 11-of-13 free throws) lead a guard-centric performance. Texas did a number on Brink (just seven points and five rebounds in 21 minutes) and limited the impact that Stanford's depth could have on the game. The Cardinal is streaking right now. Stanford has won 23 straight games, and its six-point win over Maryland is deceiving. Stanford led by 23 points to start the fourth quarter and the Terrapins outscored the Cardinal 30-13 just to get to the game's final margin. Stanford, like Texas, is peaking at the right time. Plus, Stanford is seeking to defend its national title, its third under coach Tara VanDerveer, who is the game's winningest coach.
Fun Fact
When it comes to women's college basketball, Texas and Stanford are legendary programs with a combined four national titles. Stanford leads the all-time series, 8-6. Texas has won the last two meetings. There are two previous meetings in the NCAA Tournament. In 1988, Texas beat Stanford, 79-58, in the Sweet 16, held at the Erwin Center. Texas went on to lose to Louisiana Tech in the Elite Eight, and Louisiana Tech went on to win the national championship. In 2017, Stanford returned the favor in the Sweet 16 in Lexington, Ky. Stanford won, 77-66, and then defeated Notre Dame in the Elite Eight. Stanford lost in the national semifinals to South Carolina, which went on to win the national championship over … Mississippi State, then coached by Schaefer.
Prediction
Texas 68, Stanford 67. These are two teams peaking at the right time. Expect Stanford to make offensive adjustments to Texas' defense, most notably trying to get Brink going inside. Texas' first win felt like it caught Stanford in the midst of a post-championship hangover. The Cardinal is much better now. But, so is Texas.
You can find Matthew Postins on Twitter @PostinsPostcard.