Big 12 Recruiting
HCS Interview with 2023 Oklahoma QB Commit Jackson Arnold: On Brent Venables, Jeffy Lebby and Visiting Norman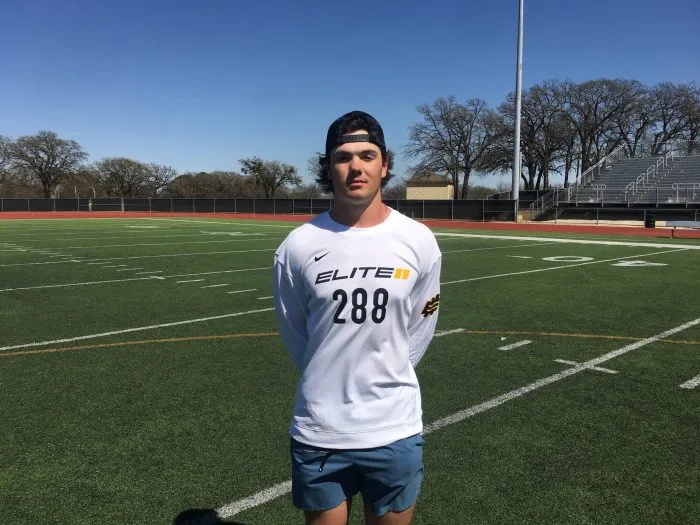 On Sunday afternoon over 100 quarterbacks showed up at Trinity High School in Euless, Texas to compete in the Elite 11 Dallas Regional. Despite the amount of quarterbacks competing only two of them got an invite to the Elite 11 finals and one of those invites went to Jackson Arnold.
Jackson is the Oklahoma 2023 quarterback commit out of Guyer High School in Denton, Texas. He has been committed to the Sooners since January and had plenty to say about head coach Brent Venables as well as a few other things when I got the chance to catch up with him after his performance on Sunday.
HCS: How did you feel like you performed today?
Jackson: "I feel like I did pretty good, but I obviously could have done better but I was able to get an invite."
HCS: What's Coach Venables like?
Jackson: "He's awesome. He's a high energy and loves to talk. He wants what's best for the players which is what I love the most. He not only wants us to be good football players but good men as well."
HCS: What made you choose Oklahoma over the other schools?
Jackson: "I love the school and the campus and of course the facilities but I think most importantly it was offensive coordinator Jeff Lebby who came over from Ole Miss. I was talking to him for over a year at Ole Miss. He gave me one of my first offers and believed in me since the beginning. We talk every week and that is what made me pull the trigger on Oklahoma."
HCS: How do you see yourself fitting in Jeff Lebby's offense?
Jackson: "Perfectly. What we run at my high school is exactly what he runs."
HCS: What's something you have to do before every game to get prepared?
Jackson: "I always listen to Playboi Carti every time I step off the bus."
HCS: When was your last visit to Norman and do you have any future dates to visit again?
Jackson: "I was in Norman a couple weekends ago and I will make it up there soon."