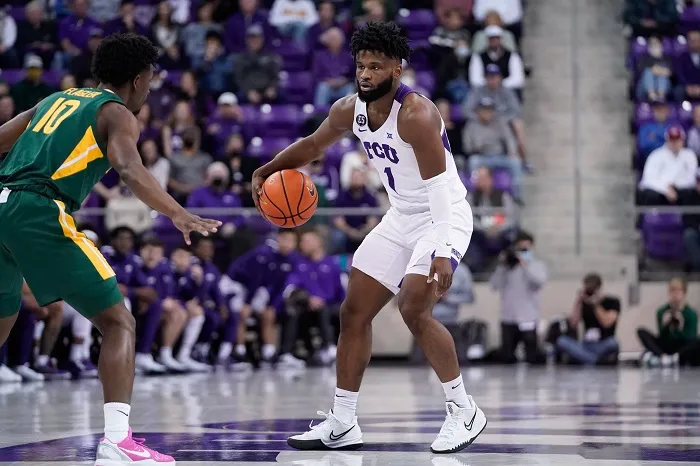 The TCU Horned Frogs' men's basketball season is done. Here are five thoughts about the 2021-22 season and what's ahead for the basketball program.
The Season
The Horned Frogs lost 10 players from last season's roster to the transfer portal. Aside from guard Mike Miles Jr. and center Eddie Lampkin Jr., the Horned Frogs' last two recruiting classes were toast. So head coach Jamie Dixon and staff had to go to work, bringing in eight transfers, including an in-conference transfer in Micah Peavy from Texas Tech. It took some for this team to find its footing, but right around the Horned Frogs' Big 12-SEC Challenge win over LSU in late January, things started clicking. While Miles was having a fine season (15.4 points), he now had help in the form of guard Damion Baugh (10.6 points), forward Emanuel Miller (10.3 points), holdover guard Chuck O'Bannon (9.5 points), and Lampkin (6.2 points, 6.8 rebounds). Lampkin's physical transformation was incredible, as he lost more than 60 points from last season to this season, and by March his impact was indelible. TCU played its way into the NCAA Tournament with wins late over Kansas, Texas Tech, and Texas. After a first-round win over Seton Hall, the Horned Frogs fell to Arizona in overtime in the second round, a game complete with a controversial ending in regulation. TCU won 21 games, won an NCAA Tournament game for the first time since 1987, and looks poised to build on that momentum next season.
Who's Leaving?
Two players are listed as seniors. O'Bannon is a redshirt senior, but he has at least one more season open to him due to COVID-19 waivers. Former Vanderbilt guard Maxwell Evans, who transferred to TCU last offseason, is a fifth-year senior but used his redshirt after an early injury and should be back next season. So, barring transfer portal declarations and the NBA — looking at you, Mike Miles — no one appears to be out the door.
Who's Coming Back?
TCU is now one of the deepest rosters in the Big 12. Miles could flirt with the NBA, but he would be better served staying in Fort Worth at least one more season. Right now, the Horned Frogs could return everything it has next season, assuming O'Bannon and Evans decide to opt-in.   
Who's Coming In?
The Horned Frogs don't have much roster space, so Dixon and his staff focused on Crosby, Texas, guard PJ Haggerty and signed him in November. The Top 150 player averaged 33.5 points, 7.1 rebounds, 3.0 assists and 3.2 steals per game as a junior and chose TCU over Arizona, Arizona State, Auburn, and Texas A&M. Right now he's TCU's only incoming freshman, but the 6-foot-3 combo guard could contribute immediately.
What to Watch For
Can TCU hang on to all of this depth? That's a good question in the transfer portal era. The good news for the Horned Frogs is that because most of these players transferred in using the immediate waiver for first-time transfers, another transfer would mean sitting out a year (unless they're a TCU graduate). Assuming TCU hangs on to the depth, then it's a question of whether Miles heads for the NBA. He's not a part of mock drafts right now, but he could declare and go through the process before making a final decision. If everyone comes back, TCU is a contender to challenge the top of the Big 12 next season.
You can find Matthew Postins on Twitter @PostinsPostcard.