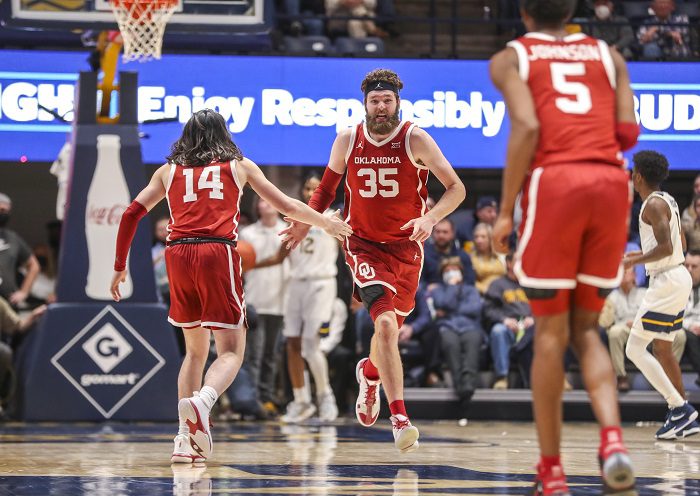 The Oklahoma Sooners' men's basketball season is done. Here are five thoughts about the 2021-22 season and what's ahead for the basketball program.
The Season
The Sooners had to break in a new head coach in Porter Moser and a raft of transfers. In non-conference, the Sooners looked solid. The schedule was a bit forgiving, and the two losses were to Utah State and Butler. In Big 12 action, the Sooners won two of their first three and then, well, ugh. The Sooners lost four straight and then beat West Virginia. Then the Sooners fell to Auburn in the Big 12-SEC Challenge and then lost two more league games before their win over Texas Tech on Feb. 9. After that, the Sooners lost four more straight before ending the season on a run, with wins over Oklahoma State, West Virginia and Kansas State, along with an upset of Baylor in the Big 12 quarterfinals. After the Sooners' loss to Texas Tech in the semifinals, Moser made his case to the NCAA Tournament committee. But, they didn't buy it. The Sooners were a No. 1 seed in their bracket in the NIT and fell in the second round to St. Bonaventure, finishing Moser's first season with a record of 19-16.
Who's Leaving?
This being the era of COVID-19, it's not always easy to tell. Oklahoma had guard Jordan Goldwire, guard Marvin Johnson, and forward Ethan Chargois listed as super-seniors, an easy way to tell if they're out of eligibility. Goldwire finished with 10.4 points per game, a career-high for him after four seasons at Duke. They're the only three Sooners out of eligibility.
Who's Coming Back?
Three players had COVID years to exercise if they so choose — forward Tanner Groves, guard Umoja Gibson, and guard Elijah Harkless. In February, after his season-ending injury, Harkless announced he would return. Moser confirmed that on March 28. At the same time, he also confirmed that Groves was coming back, too. As for Gibson, he's exploring his professional options, but he's leaving his COVID year open. The rest of the roster is eligible. If everyone comes back, the Sooners would return five of their top six scorers from last season — Gibson, Tanner Groves, Harkless, Jalen Hill and Jacob Groves. The Sooners do not have any current players in the transfer portal.
Who's Coming In?
Moser signed a three-player class in November. Otega Oweh (Somerset, N.J.) is a 6-foot-6 guard considered a four-star prospect by ESPN and a Top 100 prospect by 247Sports, Rivals and ESPN. Milos Uzan is a 6-foot-4 guard from Las Vegas, ranked No. 52 overall by ESPN and considered the top prospect in Nevada. Forward Benny Schröder, who is 6-foot-7, is from Germany and is ESPN's top international prospect. It's the first Oklahoma class since 2019 with two players in ESPN's Top 100. Uzan is a candidate to make an immediate impact, given Goldwire's departure and the Sooners' need for a point guard.
What to Watch For
Perhaps some stability this offseason. The departure of Lon Kruger let the barn doors open, so to speak (Think about what OU would have been if Brady Manek had stayed?). The Sooners look like a team that could win 20 games next season, given what's expected to return. Don't rule out Moser making a move or two in the transfer portal, if a scholarship opens up. At the moment, the Sooners look close to full in that department. Now, it's about developing the talent they have.
You can find Matthew Postins on Twitter @PostinsPostcard.