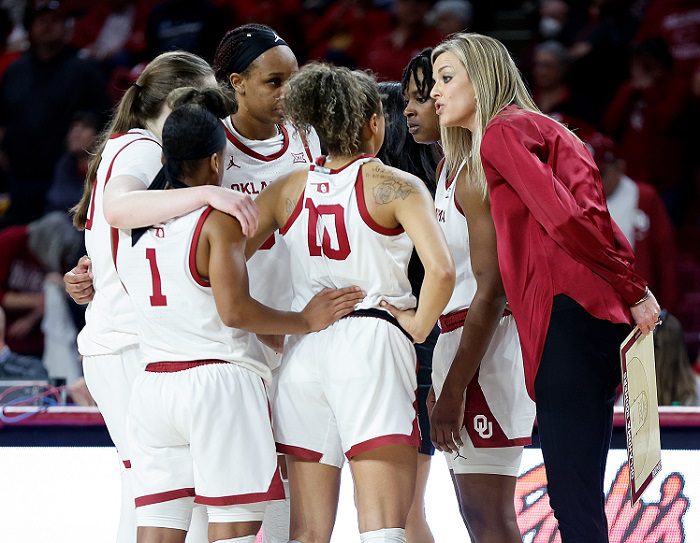 The Oklahoma Sooners' women's basketball season is done. Here are five thoughts about the 2021-22 season and what's ahead for the basketball program.
The Season
After three seasons of sitting at home during March Madness, Oklahoma legend Sherri Coale retired and the Sooners hired Drake coach Jennie Baranczyk to replace her. The resurgence was immediate. Oklahoma's only loss in non-conference was to Oregon. In Big 12 play the Sooners surged to the top of the standings and moved into the Top 25, a place the Sooners didn't leave the rest of the season. Giving up 61 points to Ayoka Lee aside, the Sooners were consistently one of the most entertaining and high-scoring teams in the nation. Guard Taylor Robertson broke the Big 12 record for 3-pointers in a career and averaged 17.2 points. Forward Madi Williams averaged a team-high 18 points and 7.5 rebounds. The emergence of Skylar Vann (11.8 points) as the Big 12 Sixth Player of the Year and Kelbie Washington (6.7 points) came after the injury to Ana Llanusa, who was averaging 17.3 points in 10 games. Without her, the Sooners reached the Big 12 semifinals, earned a No. 4 seed in the NCAA Tournament, and won a postseason game for the first time since 2017. In another year, Baranczyk would have been the Big 12 Coach of the Year. She'll have to settle for doing things that even Coale couldn't do in her first season (just five wins in 1996-97).
Who's Leaving?
Forward Nydia Lampkin. She's the only Sooner that went through Senior Day activities in March. There are no Oklahoma players in the transfer portal as of this article.
Who's Coming Back?
Everyone else, with an emphasis on the other three seniors. Baranczyk and her players let the media know on Senior Day that Llanusa, Robertson, and Williams would all return for 2022-23, the result of an additional season of eligibility due to COVID-19. That means the Sooners will return their top eight scorers from a season ago when the Sooners were in the Top 10 in the nation in scoring. No Big 12 team will be able to boast that. Few teams in the country will be able to boast that.
Who's Coming In?
Baranczyk's first recruiting class may not play much in 2022-23, but it checks all the boxes. Guard Kayla Cooper out of Plano, Texas, fits the profile of a college point guard and is one of Texas' Top 10 prospects. Beatrice Culliton of Overland Park, Kan., is a 6-foot-3 forward who can play inside and is a Top 15 national prospect. Kiersten Johnson is a 6-foot-3 forward from Dallas, Texas, that passed on Texas and plays for state high school power Duncanville. Reyna Scott is a 5-foo-9 guard from New York City who was an Adidas All-American as a junior. It took Baranczyk one year to rebuild OU's talent pipeline.
What to Watch For
A quiet offseason in Norman. With the new year-round calendar for player workouts, expect a lot of chatter about players like Robertson, Williams, Vann, and Washington in the gym getting ready for next season. Plus, stories about Llanusa working to return from her injury. The Sooners should be ready for a lot of attention next season. Right now, they track as a trendy preseason Top 10 pick.
You can find Matthew Postins on Twitter @PostinsPostcard.