Big 12 News
Oklahoma Trailing in Race for 2022 Five-Star DL Lebbeus Overton: Report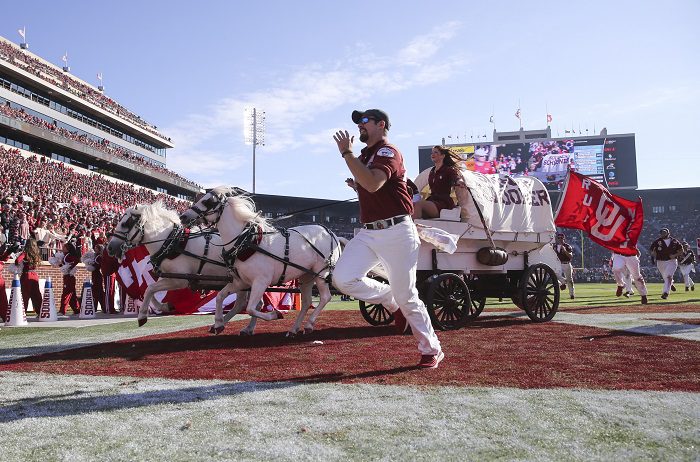 The race for 2022 five-star DL Lebbeus Overton is in full swing, and it sounds like Oklahoma is currently at the back of the pack.
In a breakdown of the leaders for Overton, the Sooners were listed fifth out of the five schools that are in the race. Here is what 247Sports' Director of Recruiting Steve Wiltfong had to say about Oklahoma's position with Overton.
"Initially, Overton's interest in Oklahoma was rooted in going out to see where his father played," Wiltfong writes. "Overton made it to the ChampU BBQ last summer and returned for a game. Lincoln Riley's energy similar to Day's was exciting. When Brent Venables got the job at Oklahoma, that didn't hurt things — his scheme at Clemson has always intrigued Overton and Overton knows the type of defensive lineman he can become playing under Venables. Overton is scheduled to get back to Norman for the Oklahoma spring game the week after Ohio State's."
Texas A&M is viewed as the favorite to land the uber-talented defensive lineman, according to Wiltfong.
"We currently see the Aggies as the team to beat," Wiltfong writes. "Overton made some rounds last summer, making stops at places like Alabama, Clemson, Georgia, Oklahoma, Ohio State, and Texas A&M. Back then, he said at the time his trip to College Station was his best one yet. Overton was born there, and it was one of the programs he grew up rooting for.
"He had a great deal of intrigue in Texas A&M prior to his process even starting and Jimbo Fisher and his staff have done a terrific job from the moment they offered. Overton has great relationships with several coaches, both on the field in Terry Price and off it with guys like Nick Williams and Tony Jerod-Eddie. He made a return trip for the Aggies' win over the Crimson Tide this past season, stopped by again in January and his official this past weekend has continued to keep Texas A&M well positioned for Overton's signature."
While Oklahoma appears to be on the outside looking in, it's not all bad for the Sooners. First of all, if they miss out on Overton, they already have the No. 8 class in the country. Plus, they get the last visit of the five schools that include the Sooners, Aggies, Ohio State, Oregon, and Georgia.
Oklahoma has a fighter's chance in the Overton sweepstakes, but they certainly have some room to make up.