Big 12 News
TCU's Tre'Vius Hodges-Tomlinson on Spring Practice Under Sonny Dykes: 'It's Much More Fun'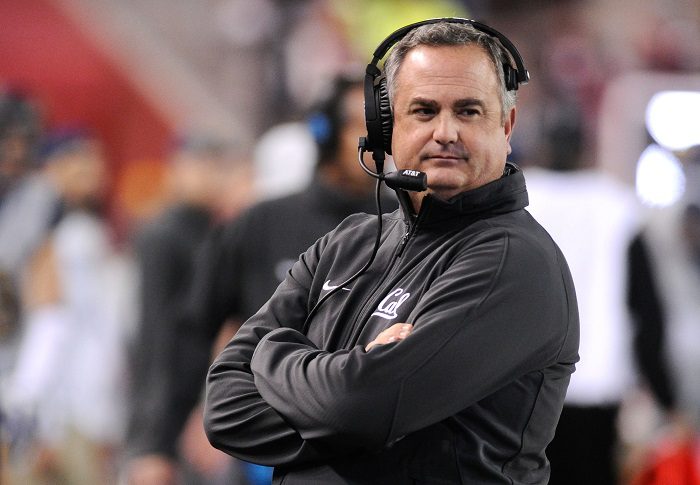 TCU head coach Sonny Dykes is tasked with rebuilding a culture in Fort Worth, rather reestablish one after Gary Patterson departed from the Horned Frogs last season after 20 years.
One way that Dykes attempted to do just that is by hosting more than 150 former players at spring practice over the weekend.
Having former players on campus was a unique experience for the current team, something that was much different than the years previous at TCU.
"It's much more fun and I feel like it makes guys go harder," senior cornerback Tre'Vius Hodges-Tomlinson said. "It allows guys to show their energy and show fans their true personality. It's a great deal."
Dykes is hoping to establish more of an open door policy at TCU, to be more accessible to former players that want to make an impact on the team by sharing their experiences and giving the current players another perspective of that TCU football really means.
"TCU has a great legacy. This has been a big-time football program for a long time," Dykes said. "There's been a lot of really good players who have come through here and a lot of those guys are playing in the NFL now. They're great ambassadors for the university and for our football program. It's really their program. I've always said that. It's really about the players. They're the ones who go lay it on the line every Saturday.
"They were all here before I was. They've invested tons into this program, so it's fun anytime I can connect and get their perspective and learn from them. Learn the things they loved about TCU and learn some of the traditions about the university and football program specifically. I'm looking forward to getting to know them better and developing a relationship."
Current NFL players such as Ty Summers (Green Bay Packers), Ben Banogu (Indianapolis Colts), and Garret Wallow (Houston Texans) were in attendance and are encouraged to come back and check on things when they are available.
"The biggest thing we want to do is make ourselves available," Dykes said. "Give access to our program 24/7/365. We just want those guys to feel at home and get to know us and build a relationship with us and understand that this is their home. They were here before I was and they're always welcomed."