Oklahoma Sooners
Watch: Brent Venables' Hands-On Approach a Drastic Change From Previous Regime at Oklahoma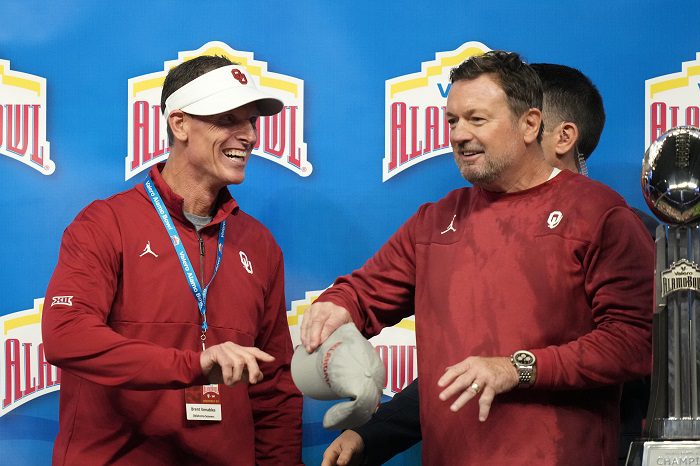 Oklahoma is in the thick of spring practices, and unlike when Lincoln Riley was at the helm, the Sooners are allowing a media presence within the confines of the field. That allows us to get s sneak peek of what Brent Venables and his staff are implementing early on in the spring, and how things are progressing.
While practices being open to media is a big change, it is not the only difference between Venables and Riley, not by a long shot. Venables has proven to be a motivator of men, and that's not to throw any shade at Riley. While he left the Oklahoma program in shambles, he was able to win 55 games in five seasons. Sure, the team got worse every year that it got further away from the Bob Stoops era, but Stoops is a legend. Riley is 38 years old and just removed from the start of his coaching career.
Venables, 51, has been around the block a time or two, coaching under Bill Snyder, Bob Stoops, and Dabo Swinney, all three of whom are/will be in the College Football Hall of Fame. In 30 years of coaching college football he's picked up a few things, but at his core, Venables is an energized motivator and fierce competitor. You can see it in the way he approaches coaching his position of expertise: linebackers.
You can see Venables teaching his players to be in position to defend the hook/curl area of the field, and the timing of their drops in coverage. This is a fairly simple, but extremely important concept that Oklahoma struggled with at times last year.
It is refreshing to see a head coach exude the type of genuineness that Venables does on a day-to-day basis; something that made him the right guy for the job in Norman. The results on the field will be how he is ultimately graded, but all signs point to success for the first-year head coach.