featured
Arch Manning's 'Old School' Approach to His Recruitment a Refreshing Oddity in Today's Time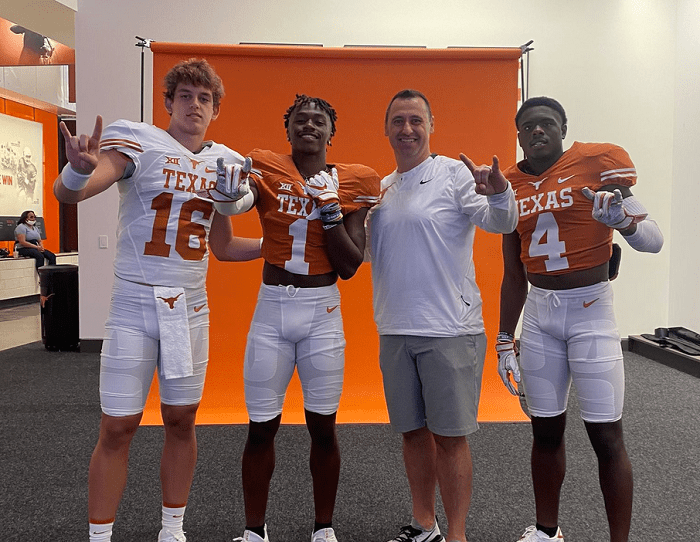 Arch Manning isn't your typical 18-year-old kid. As the nephew of Peyton and Eli Manning, he has an NFL pedigree at the quarterback position and is rated as the top recruit in the 2023 recruiting class. However, just because he could be the next generational quarterback in football doesn't mean he wants all of the extra attention that comes with that.
Arch Manning just created a Twitter account in February, and if that doesn't tell you something about this kid right off the bad then you might be out of touch with this generation. Social media is everything with teenagers in this day and age, but Arch doesn't seem to care all that much. He has amassed 6,500 followers on his account in just over a month, but follows nobody and has yet to post anything. His bio says "High school student." No mention of his five-star status, awards, titles, etc. To me, that is a refreshing sign in today's world of recruiting.
Isidore Newman head coach Nelson Stewart leads Manning's recruitment, just like in the "old days." In 2022, social media has allowed recruiters to have a direct line to players and their families, but not in this situation.
"We've put a tremendous amount of effort into letting him just be a teenager," Coach Stewart told The Athletic. "I think the school and especially the family, we've just done a great job helping come up with a blueprint. And I've been running point on it.
"I really believe this, but Arch is truly just wanting to find the best fit for him. He is a meat and potatoes kind of kid. He drives a pickup truck to work. He wears a hat. He likes to throw balls after school. While he's a deep kid, it's all about fit and finding the best place for him to go on every level. He wants to be a student. He's very social. He's popular and has many friends he's had since he was pre-K at Newman.
"He's not caught up with what other people seem to be. We don't discuss things like NIL or conferences or uniforms teams wear. He's all about the school, forming relationships with every single coach on these staffs. He wants to get along in the locker room. When he goes to these schools, he's going as a recruit. There's no red carpet."
Now, it's not like Stewart has only known Arch since he was a promising eighth-grader or something. In fact, Stewart is a friend of the family, having played alongside Peyton and Cooper Manning at Isadore Newman, the latter being Arch's father. As a coach at Isidore Newman for the last 23 years, Stewart knows the toxicity that the recruiting world can bring into young men's lives, which is why he is so eager to take calls on Manning's behalf.
That kind of approach allows the family to enjoy Arch's time out of the spotlight because once he enters it, there likely wont be an exit until he retires from the sport. When will that spotlight start shining? Well, when he makes his announcement of where he will attend college but even that date has yet to be determined.
"I think initially he was hoping for spring and then maybe summer," Stewart said. "Then it got to the point of saying, 'Hey, let's not put a timeline on it.' When you know you, you know. He has made a lot of headway on what he's looking for."
Where will Arch end up? Well, if you take a look at the crystal ball predictions on 247Sports, you will find that not one has been put in. That's because the race is wide open and nobody really knows. Sure, we have heard really good things coming out of Austin, but Alabama, Georgia, and Ole Miss are right in the mix too. This one won't be easy to read until it's all said and done, and that's just how Manning wants it to be.