Big 12 News
K-State Football Can't Afford to Fall Further Behind in 2023 Recruiting Trail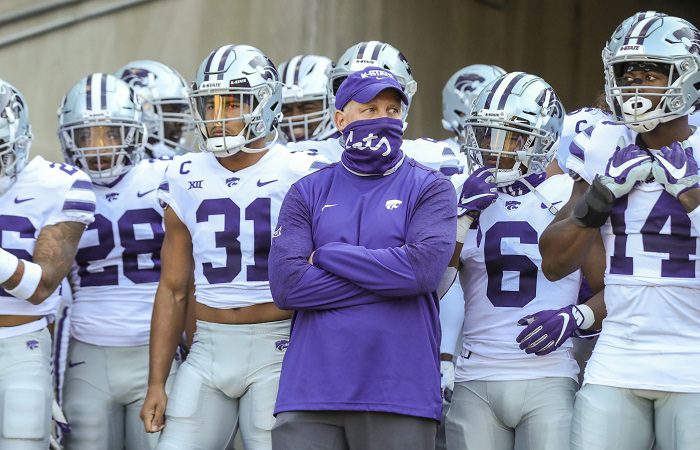 K-State spring football is in full swing, and as of this writing, there is not much to report.
Transfer quarterback Adrian Martinez is not a full participant in practice but is still expected to be the starting quarterback when fall practice starts.
There will not be a spring game again this year because there aren't enough healthy players on the roster. That is not a good sign that there is a lot of depth on the roster, but it may not be a big deal.
The loudest buzz so far this spring is that four-star quarterback recruit, Avery Johnson, from Maize, Kansas was in town on Tuesday to observe practice. K-State hopes to land him as a member of the class of 2023.
Johnson showing interest in K-State is a good sign, but it begs the question: How is recruiting going for Chris Klieman and his staff? This might be an opportunity to do a reset and see how K-State is doing recruiting compared to the rest of the Big 12. I have previously mentioned that Chris Klieman needs to recruit a lot better for K-State to finish in the top half of the league regularly. It is still early, but at this point, things are not looking very promising for 2023.
247Sports has K-State's 2023 recruiting class currently ranked at a tie for 7th in the Big 12 and 60th overall in the country. Rivals ranks the class 9th in the Big 12 and 61st overall. K-State only has one recruit thus far, offensive lineman Camden Beebe. It is not uncommon to have only a few commits at this point in the recruiting process. For example, Alabama only has two 2023 commits thus far. However, most of the rest of the Big 12 appears to be doing pretty well. Texas Tech has 13 commits to lead the league. Baylor has eight. Everyone else, sans Kansas, has between one and four commits.
Securing the commitment of Avery Johnson would go a long way in building a highly, or at least higher ranked than in the past, recruiting class. There are a couple of other recruits generating a buzz among K-State fans. Dylan Edwards, son of former K-Stater Leon Edwards, from Derby, Kansas, has indicated an interest in K-State and Oklahoma. Wide receiver Jaidyn Doss of Peculiar, Missouri, recently scheduled a visit to K-State. Getting these recruits to commit is a priority for Klieman and his staff.
If they can land these players, it would be a good sign for the future. It could serve as a springboard to "upping their game" on the recruiting trail. If they can't secure these commitments, it is a red flag that, at this point in his tenure, this staff is struggling to recruit at the level needed to compete for and win the Big 12.
I am keeping a close eye on these recruits to see what happens. Klieman is at a critical point in his tenure. He has a good team returning this fall and needs to have a good season. The program is trending upward. Finding success both on the recruiting trail and on the field will continue that upward trend.