featured
Patty Gasso: Run-Rule Wins are 'Becoming a Little Bit Poisonous' For Sooners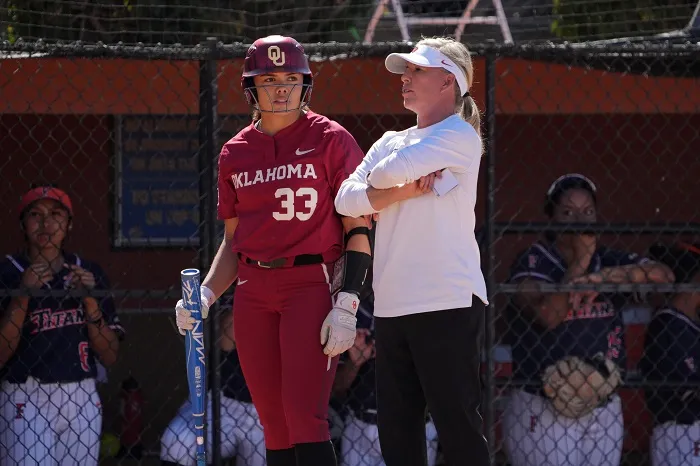 Oklahoma softball is 30-0 for the second time in two seasons and has been dominant in almost every way to this point.
Some would say that winning 25 of those 30 games by run rule would make head coach Patty Gasso's job easier, but that's hardly the case.
In fact, it might be making her job harder. How do you motivate a team to improve their game when they are blowing everyone out of the water?
"Quite honestly, run-rules are good," Gasso said in the postgame of Oklahoma's 10-1 victory over Wichita State."But they're becoming a little bit poisonous to us. And it's not like I can tell a team, 'Hey, let's just slow it down and play seven innings.' They're just doing what they're doing. But through that, we're getting I think kind of lost in the idea that we are that good right now.
We can get a run-rule on somebody, but it doesn't make us good enough. So, I'm continuing to get on these athletes as to what we need to do, the little things, attentive, focused, all of those things. It's easy to get away from those things when you get big scores. So, we are continuing to work to improve what we know we have to do in that locker room and on this field at practice."
Gasso was asked about her feelings towards the Sooners needing to rally to win in three of their last four games.
"Yeah, it's not that," Gasso said. "Actually, it was a little because we allowed the run to score when we didn't need to. So, it was a little bit of that, but it was more of the first two innings we left six runners in scoring position, and that's just lazy at-bats sometimes or unfocused; let me understand what I need to do and let me work to get it done. And I just didn't feel that. I didn't feel that from our hitters at that time. So, we had a little powwow, and it started to slowly get a little bit better.
"But we just—we're too good of a team to give up free outs the way we're doing. We're giving up outs by leaving early. We're giving up outs by swinging at bad pitches. Just we're better. And just these guys are so good I'm just a coach that I just don't want to see, I don't want to allow that to happen, because we can get away with it, if that makes sense. We can get away with it, and no one notices. But as a coach and I know what it looks like, I'm going to keep going and just that's what I was doing in there. It's like either have me tell the truth or I will sit back. And they all want it, and they need it, and I'm not afraid to say it."
While it might be a storyline, Gasso says that her team's goal is not to go undefeated, but to win a national title.
"I don't think so. To be honest, I think it's just attentiveness. It's just being attentive. And sometimes when you get in this part of the season—I kind of related it to these guys like a hamster on a wheel—you just keep going and you keep going and you keep going so much that I can't even remember what happened in the third inning. I mean, it just gets very redundant. It gets tiring. You get tired. I think we need to create something that will bring a little bit of freshness to us, and that's coaches being creative somehow in how we can do that for this group. But I think the near loss to Baylor was enough of a gut-check on this group that they know what it felt like.
"So, still, very likely we'll lose a game still along the way. I'm not afraid of that, nor are these athletes. Our goal is not to go 62-0, unless we're playing for a national championship. So, I talked to them the other day. We've won the national championship as a No. 1 ranked team and a No. 10 ranked team or seeded team. So, it doesn't matter where you are, as long as you're in. We can help our cause by doing well, but the mission of, 'Let's not lose a game,' is not even talked about or thought about with this group."
The Sooners are back in action on Friday when they host UAB for a weekend doubleheader at Marita Hynes Field.