Trending Now
WVU's Dante Stills Explains Decision to Return in 2022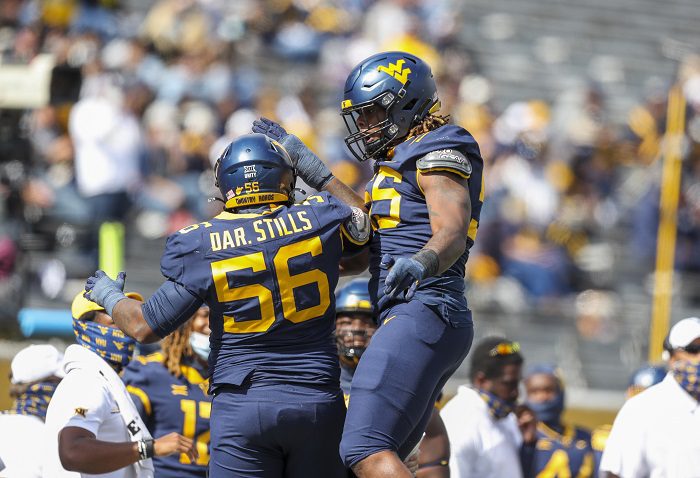 Many West Virginia fans expected 2021 to be the last season with Dante Stills in blue and gold, but Stills had unfinished business in Morgantown and decided to run it back for one more year.
Now, the 2021 All-Big 12 First Team selection will lead the Mountaineers for one last ride, but why did he decide to come back instead of entering the NFL Draft?
In his career with WVU, Stills has played in 47 games and amassed 111 tackles, 43.5 tackles for loss, 19 sacks, four forced fumbles, and one interception. However, Stills feels that there is still room for improvement in his game.
"The whole process, I just wanted to be smart with it," Stills said. "I got the data from the coaches and then I went back and watched my own film. I did my own self-evaluation and I was like, I could have done something better here, here, and here. What the scouts were telling me was matching up with what I watched and I just need to be more consistent. Run to the ball every play which I wasn't doing. People always see the sacks, the TFLs, and stuff like that and think he's good enough but there's a lot more to it than that in the game that they want that I didn't show. So, this year, it's all about that."
Stills was also asked if NIL played a part in his return; a valid question given that he signed a deal with McDonald's last month.
"Yeah. The NIL had nothing to do with it," Stills responded. "I feel like West Virginia deserves a championship. I grew up here and I've seen a lot of greats go through here and I want to have that feeling that we are finally champions. And I feel like we haven't had the feeling, just as an organization in a while. Last year wasn't good enough and I don't want that feeling again."