Big 12 News
Big 12 Divisions to be Discussed Amid Issues with Geography, OU-Texas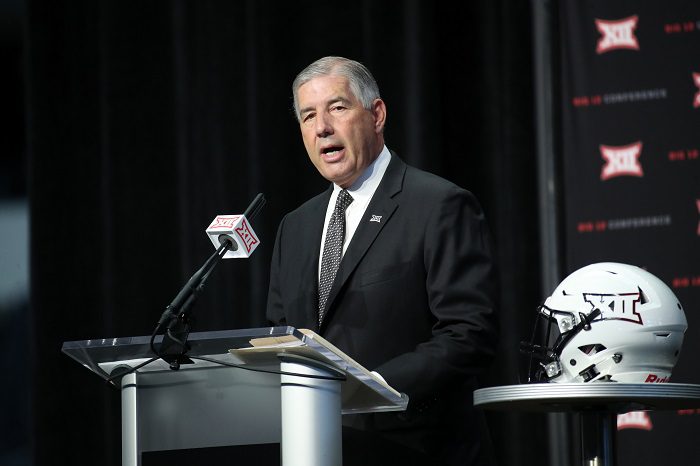 In a little over a year the Big 12 will turn the page to the future; a future where the conference includes four new schools: BYU, Cincinnati, Houston, and UCF.
Between now and then, administrators will meet several times to discuss issues concerning the new merger, as well as the departure of two schools that have been around since the conference's inception in 1994.
One of those meetings is set to take place in Phoenix, on May 2-4, according to Max Olsen of The Athletic. During the three-day session, the athletic directors from each of the joining members will meet with commissioner Bob Bowlsby and the other athletic directors to discuss one of the main issues with the future Big 12: the plan concerning divisions.
During the Big 12 basketball tournament in Kansas City in early March, the current ADs were presented with three models for divisional play but were unable to come to a consensus on which model was the best fit. Several issues stood in the way of a permanent decision being made, including what to do with Oklahoma and Texas. Neither school has given notice that they intend to exit for the SEC early but is it feasible, or foolish, to expect them to stick around until the 2025 season? Either way, the Big 12 is operating under the assumption that it will be a 14 team league in 2023 and 2024.
So, with that in mind, what is to be done with the Sooners and Longhorns? Do they belong in the same division, so that only one of them can make the conference championship, or should they be in separate divisions so that the transition is seamless when they make their inevitable exit?
Another issue is geography or simply the fact that the Big 12 will now have teams from Florida, Ohio, Utah, and West Virginia within its ranks. How do you split divisions so that travel is fair for everyone? It has been reported that the Big 12 would like to keep its nine-game conference schedule, which means six divisional games and three crossover games. Teams like BYU and West Virginia can't be in the same division, given their distance between one another.
While the issues still stand, time stops for nobody and this reality will come to life in around 15 months. What will it look like? Who knows, but they'd better get to figuring that part out.