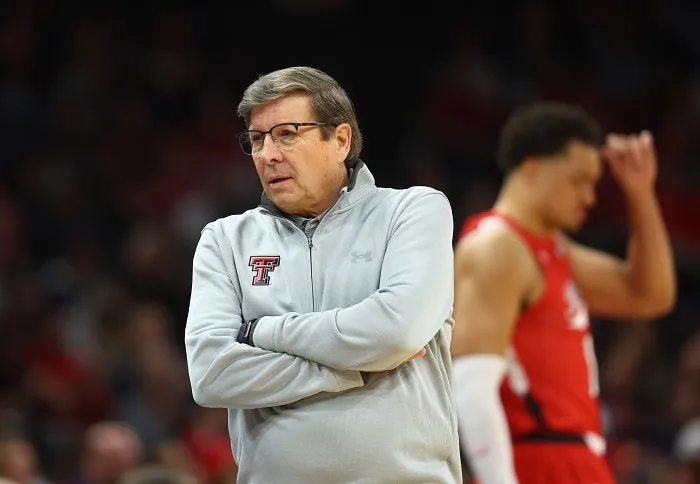 The Texas Tech Red Raiders' men's basketball season is done. Here are five thoughts about the 2021-22 season and what's ahead for the basketball program.
The Season
The Red Raiders saw Chris Beard leave to take the head-coaching job at his alma mater, Texas. A week later, his top assistant, Mark Adams, was elevated to head coach, allowing Adams to take his 'dream job' as a Texas Tech alum. He dealt with massive turnover in the transfer portal by bringing in players that would buy into his vision of the program, which included a defensive mentality that would make the unit No. 1 in defensive efficiency by season's end, according to Ken Pomeroy. A month-long injury to Terrence Shannon Jr. didn't derail the Red Raiders. It actually made them more versatile, as Bryson Williams, Kevin Obanor and Adonis Arms all carved out roles alongside Shannon, Kevin McCullar and Marcus Santos-Silva. The Red Raiders were 5-1 against the league's other Top 4 teams — Baylor, Kansas and Texas — and lost to Kansas in the Big 12 Tournament title game. Adams and company went to the Sweet 16 for the third time in the last four tournaments, and the Red Raiders probably gave Duke its toughest game on its way to the Final Four. Texas Tech won 27 games.
Who's Leaving?
Tech has four players listed as super-seniors — Williams, Arms, Santos-Silva and Davion Warren. Their college careers are done. The remaining senior is Obanor, who has played five years of college basketball, but one of those was as a redshirt. Terrence Shannon Jr. submitted his name to the transfer portal the day after Tech lost to Duke but has made it clear he's open to returning. Kevin McCullar has declared for the NBA Draft, but he's leaving open the chance to return. Chibuzo Agbo declared for the transfer portal on March 29.
Who's Coming Back?
Obanor can return on a COVID-19 waiver. McCullar and Shannon can return for the reasons already presented. It's possible the Red Raiders could be without six of their top seven scorers from last season. This elevates players like Clarence Nadolny, Mylik Wilson, Daniel Batcho and KJ Allen into competition for starting roles. Chibuzo Agbo would be part of the mix, too. It's less depth than some of the other Big 12 teams, but at least everyone returning has been part of the program for at least one season.
Who's Coming In?
Former Texas signee Jaylon Tyson transferred to Texas Tech in January after just a half-season with the Longhorns. He originally committed to Tech with Beard, then followed Beard to Texas. Now, he'll work under Adams. During the early signing period, the Red Raiders signed a four-star guard in Richard Issacs out of Las Vegas, Nev. The point guard would fill an immediate need for the team without a true point guard. Tech also signed Robert Jennings II from DeSoto, Texas, a 6-foot-7 forward who is another four-star recruit. Another guard, Lamar Washington out of Compass Prep in Chandler, Ariz., is a three-star recruit.
What to Watch For
The Red Raiders appear to have some scholarships to work with as the regular-signing period approaches in April. Tech could also be active in the transfer portal. They'll be awaiting a decision from Obanor, too. This will clearly be a different team next season, with the same philosophy. The younger players will need to grow up fast if McCullar and Shannon don't return. But, overall, this summer should be more stable than the last. Probably.
You can find Matthew Postins on Twitter @PostinsPostcard.