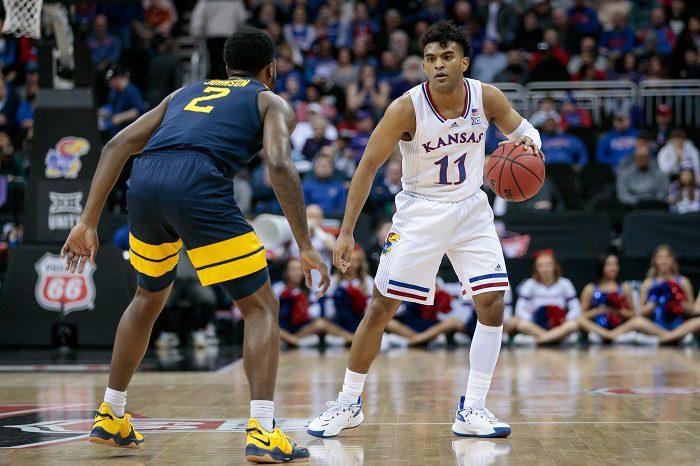 When Kansas takes on Villanova in the Final Four on Saturday, Jayhawks head coach Bill Self doesn't plan on changing his rotation, meaning Remy Martin will come off the bench.
There are good reasons to keep Martin where he's at. His rise the past seven games has come off the bench and he's fueled the Jayhawks' run into the Final Four.
Martin has averaged 13.3 points since the start of the Big 12 Tournament in Kansas City. The Jayhawks have won all seven games. He's given them a spark that's undeniable.
According to Self, there's an interesting reason why Martin has become so important to the Jayhawks' run to New Orleans.
"He's been awesome," Self said of Martin. "But we didn't have anybody that you could run bad offense and come away with a basket, and he's one of those guys, and that's so important this year."
Self clued the media into just how much work Martin had put in, especially since he suffered the injury in late December that curtailed his season.
Martin spent anywhere from two to three hours in treatment each day to help those injuries recover. Some days that allowed him to practice, Self, said, and other days it didn't. Ultimately, the Jayhawks had to shut Martin down for close to a month, between the loss to Kentucky on Jan. 29 and his re-debut against Baylor on Feb. 26.
From there, it took Martin about two to three weeks to fully re-integrate himself to the point where he could produce the way he was when he was in the starting lineup in November and December.
So, yes, Martin COULD start. But everyone agrees having Martin off the bench is the right things for this team.
"He's been great," Kansas guard Ochai Agbaji said. "Just bringing us energy off the bench, being that sixth man that comes in and gives us a different look, kind of changes things up for what they're scouting against us. But he just brings a different dynamic offensively."
Self said that he's still trying to figure out how best to use Martin in certain situations, but that the former Arizona State guard has done his best to fit into what the Jayhawks need him to do.
Part of that is to continue to turn bad offense into points.
"Remy is probably different than anybody I've ever coached, but I've loved coaching him because I love his personality and I love his energy," Self said.
You can find Matthew Postins on Twitter @PostinsPostcard.