Trending Now
Watch: Neal Brown Defends State of Program After Akheem Mesidor Enters Transfer Portal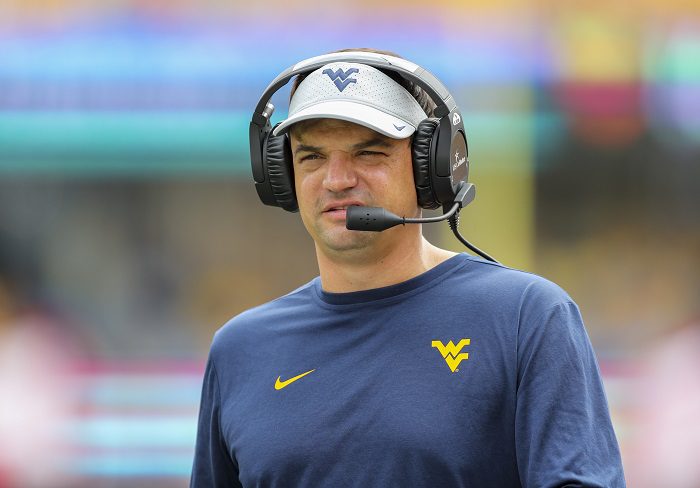 Since October 6, 2021, 21 players from West Virginia's roster have entered the transfer portal, the latest being star defensive tackle Akheem Mesidor on Thursday.
The loss of Mesidor is a big one, and apparently is something that West Virginia head coach Neal Brown never even saw coming. In fact, Brown even set up an impromptu press conference to get ahead of the news before it broke.
"Candidly I was surprised and I would even say very surprised. Every college program in the country is dealing with some kind of loss due to the portal," Brown said. "In some of our cases, it was the best interest of both parties. In some of our cases, I preferred for them to stay, but really understood the reasoning. Most of the time you really sensed them coming… but not this one.
Brown went on to talk about his relationship with Mesidor, and why this one stings so badly.
"I think it's important like Akheem's a great kid. he's a great player, he's a great kid," Brown said. "I love Akheem Mesidor. I love the kid.
"I'm not angry about it, I'm not upset, I think the best emotion that I would use… would be hurt, maybe just sad and I would say personally I hurt because of the investment and more so just the relationship."
Then, Brown talked about his philosophy of program-building and his confidence in the current state of West Virginia football.
"I sit here more resolute, more confident, and more committed in my beliefs on how to run a program than I've ever been," Brown said. "I believe in pouring into the student-athletes. I believe in going all in. I believe in building an infrastructure and surrounding them with a support staff that pours into them, seres, develops them, creates a culture of accountability. There's going to be some days that are tough like the last day and a half where you lose some guys that you are really invested in. But I believe if you do it that way, there are going to be a lot more success stories than there are ones that go away."
Regardless of the hits that keep on coming, Brown wants fans to know that his team is improving and working hard at doing so in practice.
"I want our fans to understand I believe in the young men in our program," Brown said "We've had five practices here. It's the most excitement we've had, it's the most competitiveness we've had. We've had different college coaches here talking about how well our guys are practicing. I feel very confident we're going to have some good news in the weeks to come. I feel very very confident the 23 class will be the best one we've signed here. And so when I say this, the best is yet to come, I believe that.
Brown closed by saying that his team will be ready to go in 154 days, on September 1 against Pitt in the Backyard Bowl.
"In 154 days, we're going to line up at Heinz Field and we're going to play. We're going to go out there with a damn good football team, we're going to go out there with a group of guys that believe and that are committed to this university and this state and they're going to play their ass off for the name on the front and the name on the back."
Given the unplanned press conference and the hemorrhaging of players from his roster entering the portal, from an outside perspective, it's fair to wonder if Neal Brown is losing his grip on the West Virginia program.