Oklahoma Sooners
Brent Venables Wants to 'Pack the Palace' for Sooners' Spring Game on April 23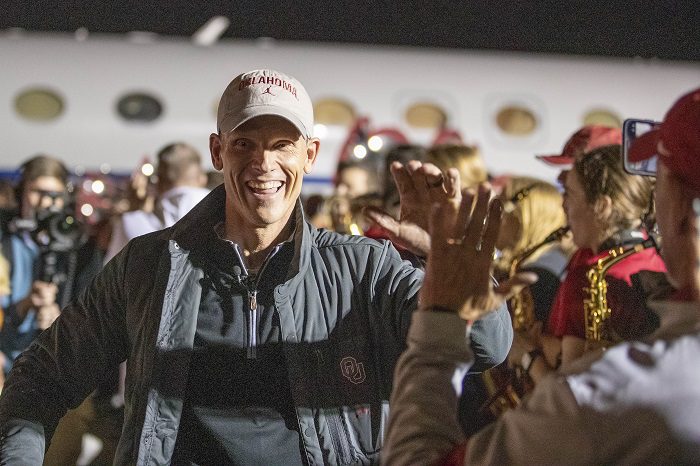 Oklahoma fans, Brent Venables has officially challenged you to be a part of something special. The Sooners' head coach understands that to be the standard of college football, a few things at OU will need to change.
One of those things is attendance at the spring game, which has been pretty mediocre at Oklahoma for quite some time. Last season, only 25% capacity was allowed due to COVID-19 but even before that, it wasn't anywhere near full.
In 2018, around 52,000 showed up to support the Sooners, but that's only around 60% capacity. This season, Venables wants the Palace on the Prairie to be "packed."
"The love and support from Sooner Nation since my family stepped off the plane in Norman have been absolutely phenomenal. We were quickly reminded about how incredibly passionate our fan base is, and we truly appreciate that unbridled enthusiasm – it's one of the many things that makes OU Football so special," Venables said in a statement. "I can't wait to see that passion on display on April 23rd, and my challenge to the fans is to fill up the stadium. As we say all the time inside our walls, 'Best is the standard.' Let's pack the Palace and make it a great day for everyone."
If Oklahoma can attract 86,000 people to the Spring Game, it would be quite the feat. In 2018, before COVID started to have an effect on attendance rates, Georgia (82,184) and Alabama (74,732) dwarfed the Sooners reported attendance of 52,102. In fact, Tennessee (65,098) and Florida (53,015) also outdid OU. If Oklahoma wants to be "the standard," they need to use the spring game as a recruiting tool, just like Alabama and Georgia are able to.
Along with the game itself, Sooners fans have another reason to show up: Baker Mayfield's Heisman statue will be unveiled at halftime.
That's right, perhaps the most beloved Sooner of all time will be in Norman to have his statue unveiled in Heisman Park.
In conclusion, if you bleed Crimson and Cream you'd better be in Norman on April 23.