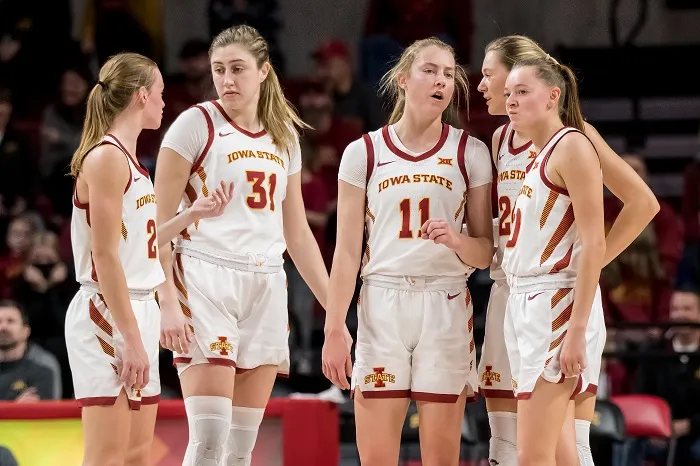 The Iowa State Cyclones' women's basketball season is done. Here are five thoughts about the 2021-22 season and what's ahead for the basketball program.
The Season
Iowa State was a ranked team the entire season and spent a significant portion of it as a Top 10 team. The Cyclones' only loss in November and December was to LSU. Starting in January, the Cyclones were a part of the Big 12 race until the end, beating every Big 12 team twice — except Baylor and Texas. The Cyclones lost to both teams twice, and that kept the Cyclones from claiming the Big 12 regular-season title. In the Big 12 Tournament, the Cyclones fell to Texas in overtime in the semifinals, but it didn't cost them a pair of NCAA Tournament games at Hilton Coliseum. The Cyclones won both and then went to the Sweet 16, falling to Creighton. The Cyclones were hoping to go farther, but that will have to wait until next season. Iowa State won 28 games, the most in Iowa State history.
Who's Leaving?
As of this writing, forward Maggie Frederick is in the transfer portal with one year of eligibility remaining. No other Cyclones appear out the door.
Who's Coming Back?
Guard-forward Ashley Joens triggered her COVID year on March 28, meaning the program's all-time leading scorer will be back for a fifth season. Beatriz Jordao, one of the few other seniors, is returning too. The Cyclones will be that rare team that has its entire starting lineup and significant bench performers returning for the next season. A team with 28 wins and a Sweet 16 berth can't ask for much more.
Who's Coming In?
The Cyclones have one signee — guard Shantavia Dawkins from Brampton, Ontario, the same hometown of Cyclones legend Bridget Carleton. Dawkins, 5-foot-10, averaged 15.5 points, 7.2 rebounds, 4.6 assists and 2.6 steals per game with Southwest Academy in 2020-21. On a deep team she may not see much playing time next season.
What to Watch For
The Cyclones will be doing all they can to try and fine-tune their roster for next season. That could mean peeking into the transfer portal to see if they can find any more scoring or rebounding that might enhance their chances of reaching past the Sweet 16 next season. Joens' return means the goal is clear — Final Four or bust.
You can find Matthew Postins on Twitter @PostinsPostcard.