Baylor Bears
One Reason Why Each Big 12 Team Was Eliminated From the NCAA Tournament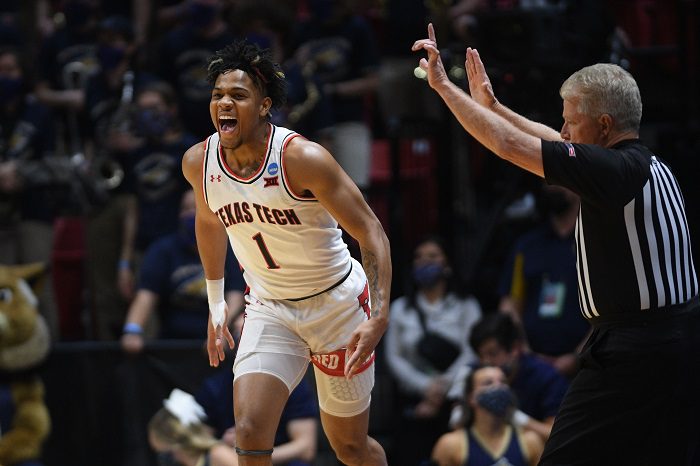 The most consistent team in the Big 12 this season, the Kansas Jayhawks, is the last team from the conference left standing in the NCAA Tournament.
The other five programs were eliminated for a host of reasons, each a unique situation that the respective schools were unable to overcome.
Here is the main reason why each team from the Big 12 was eliminated from the NCAA Tournament.
Injuries
This Baylor team did a tremendous job this season to still secure a 1 seed, and share of the Big 12 Title despite injuries to LJ Cryer, and Jonathan Tchatchoua. But missing depth and a Brady Manek that couldn't miss for North Carolina proved to be just too much for the Bears to overcome. The Bears' defense was also surprisingly bad in the loss, giving up 80 points in regulation, which was the third most this season. With Manek hitting threes until his ejection, the North Carolina offense became the perfect one to beat the Bears' no-middle defense, and without Cryer, they didn't have enough of an answer on offense until late when the threes started falling. After doing a great job to force overtime, their lack of remaining depth really came to light when Akinjo, Thamba, and Mayer all fouled out, at that point, Baylor had just simply run out of ammunition. While they had a great year the overall feeling around Baylor with their injuries was that it would catch up to them at some point unfortunately for the Bears they caught a red-hot North Carolina team in the second round.
Fouls
All season Texas' offense had sputtered, not necessarily a surprise when you think about the typical Chris Beard team, but when you look at the players they had, Marcus Carr, Andrew Jones, Cortney Ramey, Timmy Allen, and more, that's disappointing. Texas did well to quell a hot Virginia Tech team in the first round and even put up over 80 points. But when they had to face one of the top offenses in the country the question was if Purdue could break down Texas' defense? Unfortunately for Texas they really didn't have to. Texas committed 29 fouls and gave Purdue 46 free throws no matter how good your defense is if you give up 46 free throws it's going to end poorly. That can apply doubly when you have a team that relies on winning games in the 60s, not the 80s. Add on to that Purdue shot 49% from the field to Texas's 40%, the Longhorns really never had a shot late.
Last 15 Seconds of Regulation
TCU truly had a heck of a season making their second tournament in over 20 years and won their first tournament game since 1987. They proved that this is a program with plenty of life, and maybe more importantly Jamie Dixon proved he's the man to turn it around. But the last 30 seconds of regulation against Arizona are going to be extremely difficult for TCU fans to forget. Up 3 with just 15 seconds to go Mike Miles got fooled by Mathurin's move at the top of the key and gave him enough room for an open game-tying three. Then on the next possession with 7 seconds to go Lampkin came up to set a screen to free up Miles, and rolled towards the basket. But instead of getting the ball moving down low, Miles was doubled and forced to the midcourt line. There he was trapped, and yes he was fouled with about 3 seconds to go. But while it's easy to blame the ref for that play, and I won't blame any TCU fans who do, there's no reason to be so far away from a basket with just 3 seconds left. What will make it most painful for TCU fans is knowing they still had a timeout, if it was called with 5 or 6 seconds when Miles recognized he was being trapped it could have ended differently. In overtime, TCU hung around and played Arizona even but when they allowed Arizona three offensive rebounds leading to a Mathurin 3-point play to go up 4 with a minute to go it was all but over.
Failure to Put Duke Away Early
It's something every college basketball fan has heard a million times "you need good point guard play to win in March." Texas Tech had a great team this year and was a match for everyone, but they didn't have a true point guard on their roster and they paid for it in the Sweet Sixteen. For the majority of the game Texas Tech actually outplayed Duke, but the Blue Devils seemingly couldn't miss in the last 5 minutes, hitting eight straight field goals late. Anytime a team goes on that type of tear in the last 5 minutes of a close game they're going to win. What will frustrate Tech fans the most is the fact that they had several chances to put the game away and couldn't take advantage. While some will say the moment Duke showed they had what it takes to make the Final Four came late against Michigan State, I'd say their turn came after the first timeout against Texas Tech after Tech exploded to a 10-2 lead and Duke promptly tied it just a few minutes later. That was a common theme for Texas Tech throughout the game, after outplaying Duke for 35 minutes, the Blue Devils got hot and Texas Tech didn't have the offense to respond.
Turnovers
The Cyclones have nothing to be disappointed with this season; they traded in two non-conference wins against UAPB and Jackson State for two tournament wins against LSU and Wisconsin. All Season Iowa State made games ugly and relied on their guards to be the source of their offense and take over. The first weekend it worked, but against Miami, the Cyclones shot just 4/22 from three, only got 2 points from the stripe. But the real kicker was when they turned the ball 18 times. It doesn't matter how well you play defensively, if you do that you're going to lose. With Miami likely being one of the most athletic and quickest teams Iowa State played all year, the Cyclones weren't prepared for their aggressive defense. Miami was able to use that athleticism to cut off passing lanes and get fast-break buckets off of it, which also meant they kept Iowa State from imposing their half-court defense several times.