Baylor Bears
Big 12 Baseball: OSU, Texas Tech Take Series While Oklahoma and TCU Bounce Back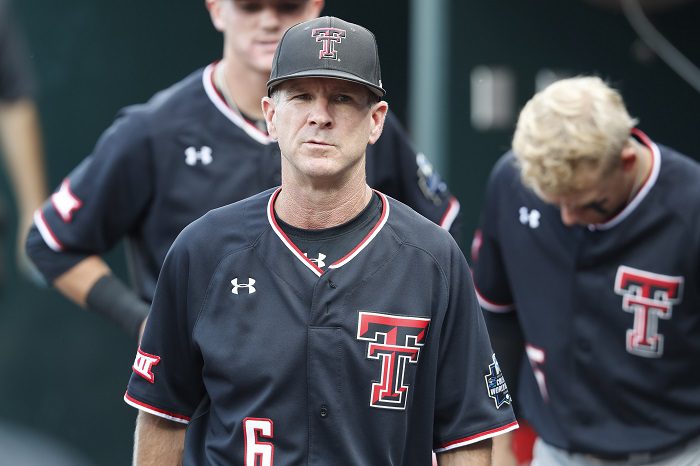 We are in the seventh full weekend of the season as all nine Big 12 teams (sorry Iowa State) are back in action on the diamond this weekend. There are several big-time matchups around the conference and here is what happened in the Big 12 on Saturday.
Notable Games
#6 Oklahoma State: 8 Kansas State: 6
This was an odd game that was extremely similar to Friday night's matchup. Oklahoma State got a sixth inning push just like they did on Friday. The Cowboys were up 3-1 going into the sixth inning and scored four runs to add to their lead. But Kansas State crawled their way back into the game after Dyaln Phillips hit his second homer of the game. The Wildcats also added three more runs in the eighth as Dominic Johnson and Nick Goodwin had key hits. Unfortunately for Kansas State it was the same result as the night before because their comeback fell short as Oklahoma State took the series in two games.
#7 Texas Tech: 28 Kansas: 2
I am not really sure what to say here because the score sums up the entire game. This was like a video game for the Red Raiders because it seemed like every ball they hit was home run. Parker Kelly, Kurt Wilson, Jace Jung, and Owen Washburn all went deep in this game that was never close. Also, Tech starting pitcher Brandon Birdsell was excellent striking out eight batters while not allowing a single hit in five innings of work. With the win, Tech takes the series and will look to sweep on Sunday.
Oklahoma: 4 #8 Texas: 2
What a pitching matchup in Arlington on Saturday afternoon. Oklahoma's David Sandlin pitched six full innings and struck out seven batters while allowing just two hits. On the other side, Texas pitcher Tristan Stevens pitched a little over six innings striking out six batters but did give up two runs in the seventh inning. Up until that seventh inning, it was a scoreless game until Texas catcher Silas Ardoin hit a solo blast to put Texas on top. The Sooners would respond quickly because later in that same inning Peyton Graham came up with a big hit that brought in two runs to give the Sooners the lead. Oklahoma would add two more in the eighth inning to extend their lead and despite another homer by Silas Ardoin, the Longhorns came up short. It was a huge win for Oklahoma and these two rivals will play for the series on Sunday.
#12 TCU: 5 West Virginia: 4
When the Mountaineers got an early lead, I thought they had a chance to run away with the series but that wasn't the case. After getting a 4-0 lead in the second inning, the Horned Frogs finally woke up a little bit. A sac-fly and a Kurtis Byrne hit helped TCU get two on the board, but the sixth inning is where TCU took control. In that inning, Elijah Nunez drove in a run before Brayden Taylor hit a two-run blast to give the Frogs the lead as they never looked back. It was a much-needed win for TCU and these two will battle it out on Sunday for the series.
Other Games
Baylor: 8 ETSU: 7