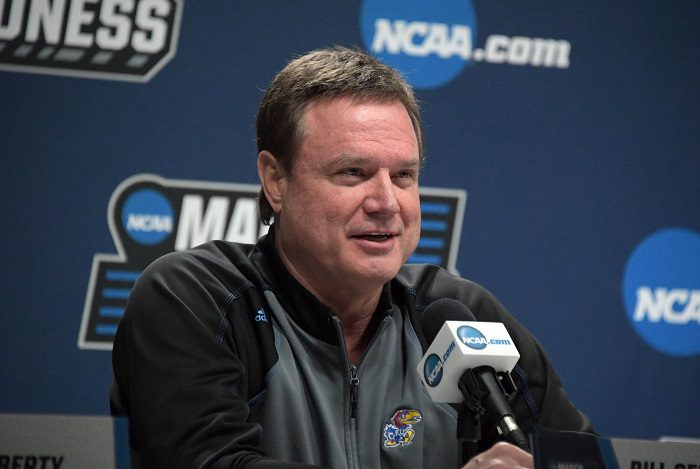 Coaches aren't supposed to have favorites, right? And even if they do, they're not supposed to admit it. Well, Bill Self went there ahead of Kansas' Final Four match up with Villanova on Saturday in New Orleans when he admitted starting point guard Dajuan Harris may indeed be his favorite player on this team.
"My guys would tell you that Juan's kind of my favorite, even though I don't think that," Self said. "But the way that I react to him sometimes is a little different than how I react to everybody else."
With Kansas having been on a roll lately, Harris may be the guy getting overlooked as players like Remy Martin continue to shine. Harris may not have the biggest stat sheet, as he's averaging 5.4 points per game and 4.2 assists per game, however, it's Harris who has the incredibly high basketball IQ, fierceness and work ethic.
"He's as tough as anybody on our team," Self said.
Then, there's the personal side. Harris has recently lost a parent and a brother.
"The situations he's been through certainly far exceeds what anybody his age or let alone in a lifetime should have to go through. So I totally respect how he's handled it," Self said. "And that's why I tell him all time, 'All good that comes to you, you deserve.'"
Harris' father was in an out of his life growing up, as he was arrested for his involvement in a gang in Columbia, Missouri. He passed away in October 2017 from circumstances that remain unclear.
Then two years later, Harris' 13-year-old brother, Dajion, was killed in the family's house. According to a probable cause statement obtained by the Columbia Tribune, his friend, 19-year-old Cameron White told police he and Dajion were high and playing with guns when Dajion said to shoot him. White told the police, per the Tribune, "And I just did, like that, and the gun just shot him, and I shot him in the head and he dead." White pleaded guilty to involuntary manslaughter.
So as Kansas gets set for the Final Four on Saturday against Villanova, Dajuan Harris won't be the guy who is flashy and gets a lot of the attention on the broadcast, but Bill Self and KU fans know the guy is the stoic, steady point guard every team needs on the biggest stage in college basketball.
And for that reason, he's, in part, Bill Self's favorite player.