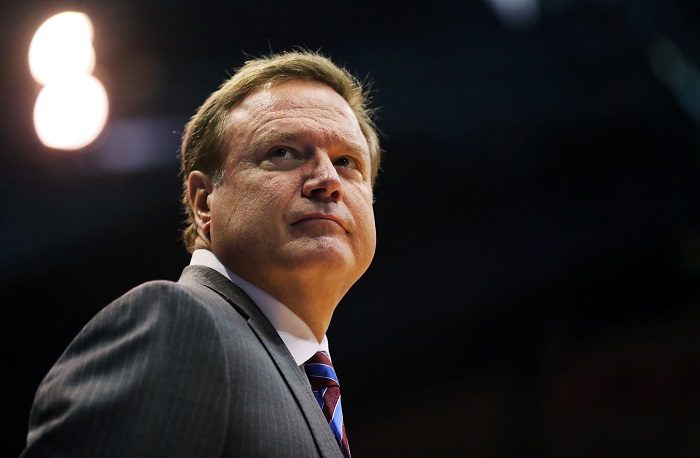 Bill Self admits that he still talks to his late father at times since his passing a couple of months ago, including during Final Four weekend in New Orleans.
Self, the son of a coach, knows his dad would be enjoying this run as the Jayhawks face North Carolina on Monday for the national championship. A win would give Kansas its first title since 2008.
"I actually probably have talked to him more in the last couple of months than I probably did when he was still living," Self said.
Self was likely joking about it, though the 59-year-old coach acknowledged that he and Bill Self Sr. used to have the same conversations that many sons and fathers have about not getting enough phone calls.
"He used to get on me a lot because he'd say, 'Well, thanks for calling, haven't heard from you in a while,'" Self said. "I'm like 'Dad, you have a phone too. They dial out both ways.' (He would say) 'No, you're busy, whenever you've got any free time, have enough time for me give me a call.'"
Self Sr. died on Jan. 22 at the age of 82. Self Sr. was a former Oklahoma Secondary School Activities Association executive director. He was also a state champion basketball coach, coaching Morris High School to a Class B girls state championship at State Fair Arena in 1966.
One of Bill Sr.'s quotes has become one that his son has used during this run to the national championship game — "Don't worry about the mules, just load the wagon."
Self coached his Jayhawks two days after his father's death to a victory over Kansas State, a 78-75 thriller that required Kansas to rally to beat K-State. After the game, Self choked up while talking to his team.
Self said that sometimes, when he's in a bind, he asks his dad, "What would you do here?"
Expect plenty of questions on Monday night, and some time to decompress no matter the outcome.
"Everybody goes through stuff," Self said. "And certainly my stuff isn't bigger than anybody else's. But it's been a situation for myself and my family that I probably have taken more pride in this than I have ever before, that maybe at times I've taken for granted because I know exactly how much he would be enjoying this right now."
You can find Matthew Postins on Twitter @PostinsPostcard.