Big 12 News
Bill Self: 'Never a Doubt' Kansas Would Return to Biggest Stage Following FBI Investigation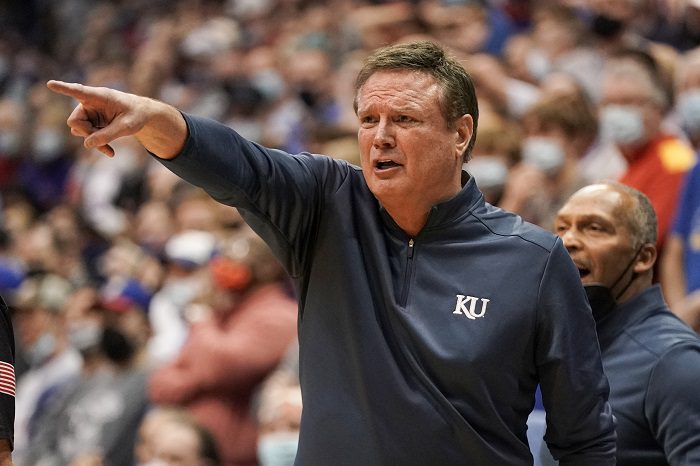 The Kansas Jayhawks are, technically, still under the cloud of potential NCAA penalties as it relates to the FBI investigation of college basketball. If you're wondering where that investigation stands, well, the NCAA's Independent Accountability Resolution Process is making its final determination of the case and will have a decision … who …. knows … when.
That paragraph above was written by Matthew Postins in January of 2021. Here's the article.
Well, well over one year later, we are still in waiting mode. And now Kansas is getting set to play North Carolina in the National Championship Game on Monday night.
But there is still no answer.
However as Kansas head coach Bill Self gets set for the game, he was asked if the threat of NCAA penalties ever caused him to think he might not get back to this stage.
Self said, "No. No. You know, it's common knowledge. We've been dealing with some stuff off the court for a while. But there was never a doubt that we didn't have the potential to get back here because two out of the last three years we've been arguably as good as anybody, but it's been different playing with older kids as opposed to playing with young kids."
That's true. Kansas isn't using one-and-done players on this run. Ochai Agbaji was an under-recruited player from Kansas City, Missouri, who is shining as a senior. David McCormack is a senior. Remy Martin is a grad transfer. Christian Braun is a junior. And we can't confirm reports that Mitch Lightfoot has been at Kansas since James Naismith.
And while the sexy one-and-done players haven't picked Kansas lately, Bill Self doesn't seem upset by it, adding, "The backbones of all of our teams have been our experience. It hasn't been our young kids. Even though I've always thought, man, if your foundation is your juniors and seniors but your best player was your freshman, you've got something special. That could be something special."
Self went on to say, "I think one of the keys to college basketball is going to be how to get old and how to stay old. And we've been fortunate that we've been able to do that the last couple of years."
They have been fortunate on that front, and also on the fact that the NCAA hasn't done anything, yet.
Self and the Kansas program are accused of committing three Level I violations, which are the most severe the NCAA can hand out. This has led to a responsibility charge against Self and a lack of institutional control. Kansas has 'emphatically rejected' the charges.
None of this should spoil Kansas trying to win its first National Title in 14 years, however, it does make you wonder if Self returning to the biggest stage with a veteran team possibly changes his recruiting approach moving forward.
We'll see.