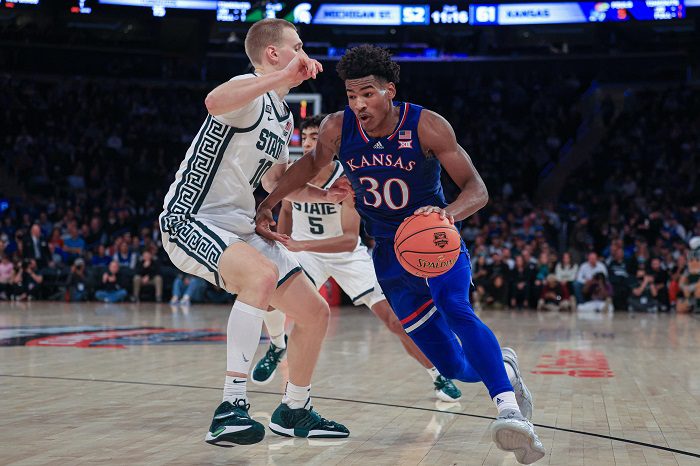 No one within the Kansas program cares about the 'Ochai Agbaji isn't playing like a Naismith Player of the Year in the NCAA Tournament' narrative.
If you believe that, Self says you're not looking at the whole picture, or even Agbaji's whole season.
"The thing about it is with Och, sometimes numbers go down, but sometimes players continue to play the right way and not force to try to get numbers," Self said on Saturday. "And that's Och."
As Kansas prepares for the national championship game on Monday against North Carolina, Agbaji will be one of the players everyone will have their eye on.
If you want to make Agbaji's NCAA Tournament purely about numbers, well, then here's your case. He scored well below his season average in the first three Tournament games. He averaged 10.3 points in those games, and he's averaging 18.3 points for the season.
The case goes cold after that.
Against Miami in the Elite Eight, after a six-point first half, Agbaji had 12 more points to finish with 18. Included in that second half were a couple of dagger baseline 3-pointers.
Then, against Villanova in the national semifinal, he had 21 points. He drained six 3-pointers, including four early treys that helped Kansas build an insurmountable lead.
So, if you want to make it about the 'numbers' — or, perhaps the only numbers that the average fan cares about — then Agbaji has averaged 19.5 points in the last two games. Plus, he's scored 33 points since the second half of the Miami game and shot 12-for-15 in that span with eight 3-pointers.
Agbaji's teammates, Christian Braun, likes the numbers. But he likes Agbaji's consistent demeanor so much more.
"You would never notice," Braun said about whether Agbaji's slow start on offense in the NCAA Tournament bothered him. "He's humble. He's confident. Just the way he carries himself. He doesn't care who scores. He just wants to win and he knows that if we win that's going to be the best situation for him."
The NBA wanted more aggressive play from him. That's what the league told him when he submitted his name for the 2021 NBA Draft but retained his college eligibility. When it was clear he would only be a second-round pick, he returned to Kansas. But, before that he spent part of his summer working out with Portland's Damian Lillard and one of Lillard's trainers, Phil Beckner.
That hard work was evident in the season's opening game against Michigan State, when he emerged as a more consistent driver as well as an outside shooter. In fact, his 3-point shooting this season is a career-best 41 percent.
"I've heard many people say he should be more aggressive," Self said. "But the way he was playing was the same way he was playing all year long. And he didn't need to change that. And he hasn't."
The Big 12 Player of the Year is now projected to be a first-round pick in the 2022 NBA Draft, and in some circles he's seen as a potential lottery pick, assuming Agbaji doesn't tap into his COVID eligibility year.
The Draft can wait, though. Now, there's a chance to help Kansas win its sixth national championship, and for Agbaji to put his name up with the legends at Allen Fieldhouse.
For the First-Team All-American, that just means keep doing what you're doing, for one more game.
"My confidence has still been there," Agbaji said. "It's just that shots are falling now. I've just kept my confidence and my guys have kept me up, and obviously looked for me on the court, too."
You can find Matthew Postins on Twitter @PostinsPostcard.