featured
Three Ideas For Oklahoma State's $40M Field Renovation and Redesign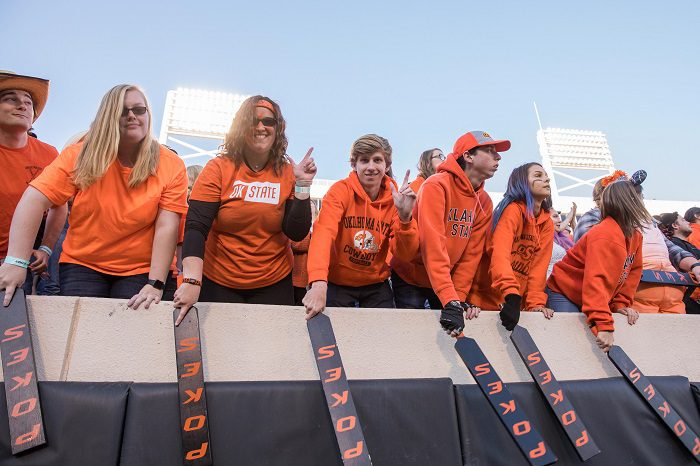 With the recent report that Oklahoma State would be giving Boone Pickens Stadium a facelift by way of a $40 million renovation and redesigned turf, I got to thinking about what direction the Cowboys' new football field design could possibly go in.
These renovations come at a time when Oklahoma State football is beginning to take a crucial step as a program after going to its first Big 12 Championship game in school history and finishing the 2021 season with a statement win over fifth-ranked Notre Dame in the Fiesta Bowl.
It seems like OSU president Kayse Shrum and athletic director Chad Weiberg recognize the weight of this opportunity and are taking the necessary steps to ensure the football program and its resources continue to grow alongside the on-field success.
I have never been a huge fan of OSU's current field layout. The midfield 'OSU' logo doesn't match the modern iteration used by the university today, the endzone font isn't any recognizable font used in the school's branding and the field itself doesn't show well on TV during daytime games. 
Plus, it's been over eight years since the turf was redesigned after the 2013 season. I think it's due for a change.
My first and favorite idea for a new field is what originally prompted me to write this article, because it would be my first choice if I had any shred of say in the matter.
The midfield logo would be updated to the school's current 'OSU' with no black trim like the midfield logo now. As for the endzones, it has to be some iteration of Cursive Cowboys, right? It has become a seemingly universal fan-favorite among Cowboy faithful and is quickly becoming integrated into the program's mainline designs. It's grown to such popularity that I would be more shocked than not if it isn't used for the new-look endzones.
My next mock-up sort of flip-flops the previous design so that the Cursive Cowboys makes its way onto the field one way or another.
If Shrum and Weiberg opted to keep the current endzones' design and font, the script font would instead be used as the midfield design. I would also be okay with playing with different color schemes on the Cursive Cowboys text, such as a black font with orange trimming or a white font with orange trimming.
Lastly, my final idea has perhaps one of the slickest endzone concepts I've seen, paired with an ol' trusty Pistol Pete center.
Fans of logo Pete will be blessed with his giant, beautiful mug at midfield as he is accompanied by black enzones with, you guessed it, Cursive Cowboys. The endzones are reminiscent of the helmets worn by the Pokes last year in wins over both Oklahoma and Notre Dame, and would be a nice breath of fresh air if OSU were to go away from its historically orange endzones.
Huge credit to my very own brother, Charlie McCormick, for putting these mock-ups together based on poorly described instructions from me.