Big 12 News
Bob Bowlsby Exit Won't Impact Oklahoma, Texas Departure Plans From Big 12: Report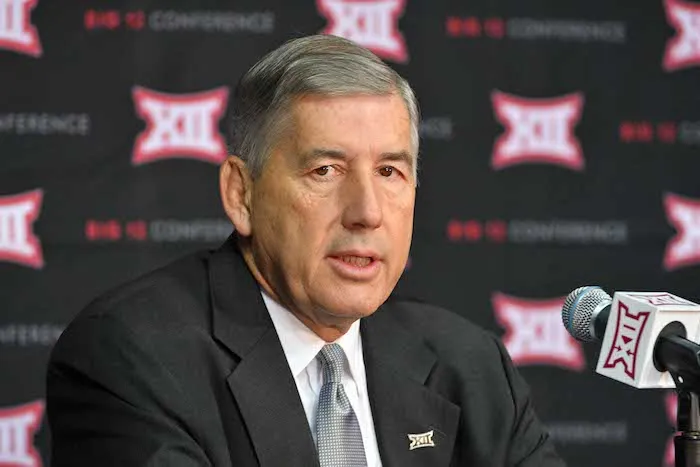 News broke on Tuesday afternoon that Big 12 Commissioner Bob Bowlsby would be stepping down from his position later this year.
Now drama is nothing new to the Big 12 Conference. It's nearly imploded twice in the last decade, but it has continued to thrive, regardless of some of the intentions of certain members. However, like everything with this conference, more drama than is necessary is likely to follow.
What impact could Bowlsby's departure have on Oklahoma and Texas? Well, according to Drew Davison of The Fort Worth Star-Telegram, the Bowlsby news won't impact Oklahoma's and Texas' plans to leave the Big 12 in the summer of 2025.
It's far more likely that the monetary issues will play a role in when Oklahoma and Texas leave the Big 12.
A recent report from Chip Brown of Horns247 said, "Multiple sources told Horns247 this week, as of right now, Oklahoma isn't as financially flexible as Texas is when it comes to having to pay the roughly $80 million in exit fees.
"Money won't have any influence on when Texas would decide to leave for the SEC," one high-ranking UT source said. "But Texas and Oklahoma are going to make that move together, so it probably won't happen before 2024."
The implication was that Oklahoma is going to need until 2024 to figure out the financing of its exit from the Big 12."
So needless to say, while there might be drama around who leads the Big 12 going forward, and the job will entail plenty as the new commissioner navigates the welcoming of four new teams and the departure of two others, Oklahoma and Texas won't change their timeline. At least not over the leadership move. At least, as of now…