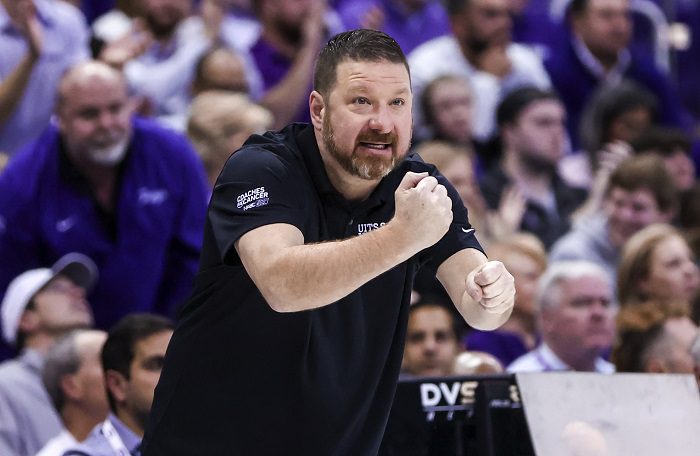 The Texas Longhorns' men's basketball season is done. Here are five thoughts about the 2021-22 season and what's ahead for the basketball program.
The Season
Texas started last offseason by letting Shaka Smart take the job at Marquette (the thought is everyone knew the writing was on the wall) and hiring former UT alum Chris Beard away from Texas Tech. Beard started his tenure in Austin by owning the transfer portal and bringing in some of the highest-regarded talent in the country, including forward Timmy Allen and guard Marcus Carr. The thing is it never quite came together the way Beard hoped it would. The Longhorns had their high marks — beating Kansas at home was one of them — but they were never able to put together a string of consistent games in Big 12 play. Their loss to TCU in the Big 12 Tournament quarterfinals underscored that, as the Longhorns gave up a 20-point lead before losing. Still, the Longhorns won their first NCAA Tournament game since 2014 and, if not for a nine-minute scoring drought against Purdue, might have won their second-round game, too. But, that was also the story of Texas' season in a 40-minute game. Texas finished the season 22-12.
Who's Leaving?
Guard Jase Febres and forward Avery Benson are out of eligibility. Neither played significant roles last season, though one could argue that Febres should have played more of a role off the bench due to his 3-point shooting. Guard Courtney Ramey has declared for the NBA Draft and submitted his name to the transfer portal, as he intends to retain his eligibility for his final year of college during the process. That doesn't rule out a return to Texas, but it's unlikely. Forward Tre Mitchell took a personal leave of absence in February and while his name is not in the transfer portal, his return is uncertain and unlikely.
Who's Coming Back?
Ramey is the only Longhorn in the transfer portal. Forward Dylan Disu, guard Devin Askew, forward Brock Cunningham and forward Christian Bishop have eligibility. Cunningham and Bishop have publicly declared they intend to return. Now, the fun stuff. Three starters — forward Timmy Allen, guard Andrew Jones and guard Marcus Carr — all have a COVID year they can trigger. All three averaged better than 10 points per game. None have announced a decision as of this writing. If they have NBA aspirations, they'll likely announce those soon. Carr went through the NBA scouting process last summer before pulling his name and transferring to Texas. Depending on their decisions, Texas could have a stacked core of players, be left with just one returning starter or be somewhere in between.
Who's Coming In?
Texas has a two-player recruiting class, but it's one of the best two-player classes you're going to find. Dillon Mitchell and Arterio Morris played in the McDonald's All-American Game last week in Chicago. Mitchell and Morris were the 21st and 22nd players in UT program history to play in the game. Mitchell (6-foot-7, Tampa, Fla.) played at Montverde Academy and was the No. 7 ranked player in ESPN's Class of 2022. Morris (6-foot-3) is a guard from Dallas Kimball High School who was 247Sports.com's No. 17 prospect in the Class of 2022. Both have the potential to make an immediate impact, especially if some of the players with COVID eligibility decide to walk away.
What to Watch For
Beard will be active in the transfer portal — that's just what he does. How active he is will depend upon the decisions of Allen, Jones and Carr. He may not need to be as active as last year, when he had to replace Texas' entire frontcourt, all of which moved on to the NBA. Bishop, Disu and Askew are all promising players who are going to take on a bigger role in 2022-23, regardless of what happens on this roster. Likewise, Dillon Mitchell and Morris won't sit. They figure to not only make an immediate impact in Austin, but are likely to get NBA attention, too.
You can find Matthew Postins on Twitter @PostinsPostcard.