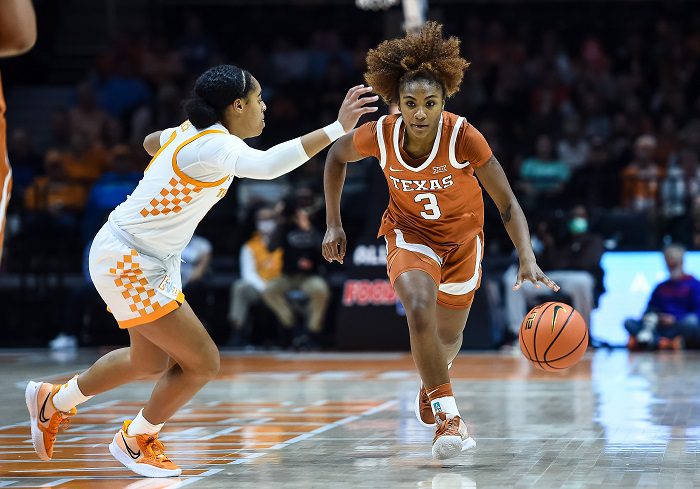 The Texas Longhorns' women's basketball season is done. Here are five thoughts about the 2021-22 season and what's ahead for the basketball program.
The Season
Texas started the season with a big win over defending national champion Stanford and nearly beat national power Tennessee on the road before losing in overtime. That set the tone for the season. The Longhorns were going to be a tough out for everyone they faced. Texas was in the Big 12 regular-season race until back-to-back losses to Baylor in early February. From there, head coach Vic Schaefer tweaked his starting lineup and the Longhorns couldn't lose. Texas did things this season it hadn't done in a while. Texas won the Big 12 Tournament title for the first time since 2003. But, in the NCAA Tournament, Texas reached the Elite Eight for the second straight season before losing to … Stanford. It was a full-circle moment for a program that is knocking on the door of the Final Four after a 29-win season, the program's most in a single season since winning 31 in 2015-16.
Who's Leaving?
The Longhorns have one loss and two potential losses, all of which would be significant. Guard Joanne Allen-Taylor passed on her COVID eligibility season to head for professional basketball. She averaged 11.4 points, 2.4 rebounds and 2.0 assists. Guard Audrey Warren and forward Lauren Ebo also have COVID eligibility seasons. Warren averaged 8.2 points, 4.3 rebounds and moved into a bench role full-time in February. Ebo averaged 8.2 points and a team-leading 6.9 rebounds, saving her best basketball for the final two months of the season.
Who's Coming Back?
Freshman point guard Rori Harmon was the Big 12 Freshman of the Year and the Big 12 Tournament's most outstanding player. She averaged 11.3 points, 4.4 rebounds, 5.0 assists and 2.5 steals. Fellow freshman Aaliyah Moore averaged 5.9 points and 3.1 rebounds. She missed more than a month with an injury, but in the NCAA Tournament Moore averaged 13.8 points and 5.3 rebounds. Guard Aliyah Matharu led Texas with 12.3 points, as does guard Shay Holle (3.9 points) and forward DeYona Gaston (7.3 points, 3.7 rebounds). Texas also has holdovers like Class of 2021 guard Kyndall Hunter, juco transfers Kobe King-Hawea and Femme Masudi, along with forward Latasha Lattimore.
Who's Coming In?
Schaefer cultivated his second straight Top 10 class. Guard Jordana Codio (Montverde Academy, Jupiter, Fla.), forward Amina Muhammad (DeSoto, Texas) and guard Ndjakalenga Mwenentanda (Sioux Falls, S.D.) all signed in November. Mwenentanda is preparing to play in the Jordan Brand Classic next month. The pipeline is getting stacked in Austin.
What to Watch For
Decisions from Ebo and Warren. An offseason for Harmon and her teammates to get better. And, perhaps, one or two players to pull from the transfer portal who want to help push Texas from the Elite Eight to the Final Four.
You can find Matthew Postins on Twitter @PostinsPostcard.