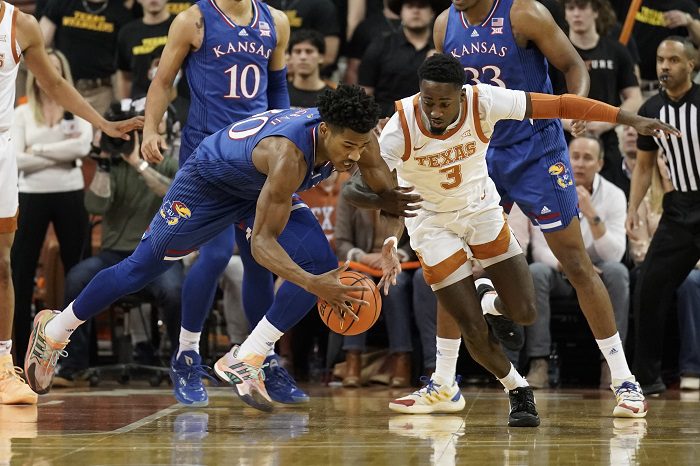 The Kansas Jayhawks won their sixth national title in school history on Monday night, erasing a 40-25 halftime deficit to beat North Carolina 72-69.
The Jayhawks will roost atop the college basketball world for the foreseeable future, or at least until next season starts, but it's too early to be talking about that already, right? Wrong.
Odds for next season's national champion have already been released and the Jayhawks lead the way again for the Big 12, followed closely by Texas and Baylor.
Kansas is among the "third-tier" teams at 14/1, following Arkansas (10/1), Duke (11/1), Gonzaga (11/1), and Kentucky (11/1). The Jayhawks are tied with Houston and North Carolina at 14/1 odds.
Texas is the next team from the Big 12 listed at 20/1, followed by Baylor (22/1) and Texas Tech (33/1).
The next team, Oklahoma (100/1), is a bit of a mystery heading into year two under Porter Moser and is right in the middle of pack in the Big 12 at this moment. TCU is also listed as 100/1 to win the 2023 national championship, while Iowa State (150/1), Oklahoma State (200/1), West Virginia (200/1), and Kansas State (300/1) round out the conference as longshots to take home the crown next season.
Go check out the full list of odds at BetOnline.ag.