Baylor Bears
Nine Potential Candidates to Watch to Replace Big 12 Commissioner Bob Bowlsby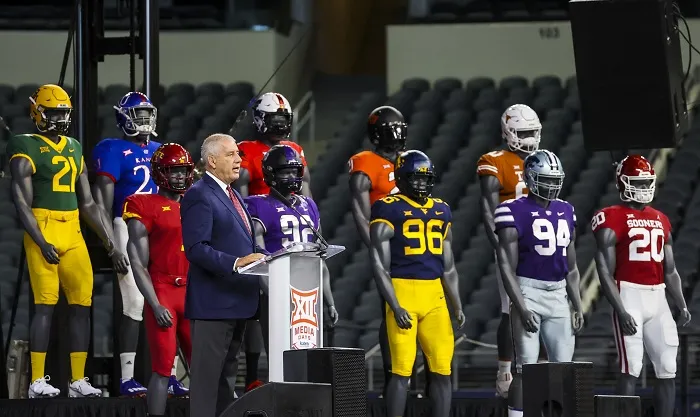 Bob Bowlsby is set to step down as Big 12 commissioner later this year, which means the league has to find a successor to guide it into its brave new world of realignment.
So who will it be? Well, Sports Illustrated's Ross Dellenger put together a solid list of candidates based on industry sources which he posted to Twitter on Tuesday.
So, let's say Dellinger's list is the one the Big 12 HAS to choose from (don't worry, there will be other candidates, I'm sure). So let's handicap the race to replace Bob Bowlsby, shall we?
Here are the candidates that have the best shot to replace, Bowlsby according to, well, me.
Oliver Luck
There are plenty of good reasons to hire Oliver Luck. He's been an athletic director (at West Virginia), run a pro sports franchise three times (two NFL Europe franchises and MLS's Houston Dynamo), run a city-wide sports authority (Houston), run the NCAA's regulatory committee, served on the College Football Playoff committee and even took a stab at running the short-lived resurrection of the XFL. He's as well-connected as it gets, especially when it comes to the league's biggest brand — football. His ties to WVU means he's invested in the future of the league.
Alabama athletic director Greg Byrne
Wanna hurt the SEC the way it hurt you last year, Big 12 search committee? Hire away the league's top athletic director, who has helped maintain the monster that his predecessor, Bill Battle, constructed. He also served as athletic director at Mississippi State and Arizona. If anyone knows how to monetize the Big 12 like the SEC, it'll be Byrne.
West Virginia athletic director Shane Lyons
Shane Lyons has something Luck and Byrne don't have — deep experience in a Power 5 conference commissioner's office. He worked as an associate commissioner in the ACC for a decade before moving into an associate athletic director role at Alabama, which led to the WVU job. He was trained to handle a conference.
Big 12 executive associate commissioner Ed Stewart
If the Big 12 is going to go with an internal candidate, it will be Stewart. He's worked for the Big 12 for 15 years and he runs the league's show when it comes to football, everything from daily operations to the Big 12 championship game to the league's bowl contracts. What he may lack in a title (athletic director) he more than makes up for in local knowledge.
Oregon athletic director Rob Mullens
If Mullens wants to move into running a conference, the time is now. He's spent 12 years running Oregon's athletic department. He's spent time on the College Football Playoff committee. And he has Big 12 ties. He got both of his degrees at WVU. But, Oregon is also a 'made' job. Why leave that?
Washington athletic director Jennifer Cohen
She's run the Husky athletic department for six years and re-made it with wise coaching hires and fund-raising efforts that rival anything in the Big 12. She even did some time in Texas Tech's athletic department. The problem? She's from Tacoma, so she may feel like she's home.
West Coast Commissioner Gloria Nevarez
One of the sports' rising stars, she was a finalist to run the Pac-12 Conference just a couple of years ago. In just a few years running the WCC she led the way in diversity initiatives and renegotiated the league's TV deal with ESPN. You may say, 'The WCC doesn't have football.' True, but Nevarez was an associate commissioner for the Pac-12 and a senior associate athletic director at Oklahoma.
Baylor athletic director Mack Rhoades
Rhoades has remade the athletic department in the wake of scandal and in the past 12 months has done unprecedented things, including winning the Big 12 football title and the NCAA title in men's basketball. Mack Rhoades JUST signed a 10-year contract extension with Baylor. Seems like it might be hard to pry away.
Colorado athletic director Rick George
George, who was with the Texas Rangers baseball team before joining CU, has raised more than $100 million for the athletic department and got his own extension just a year or two ago. How ambitious is he? We may be about to find out.
You can find Matthew Postins on Twitter @PostinsPostcard.